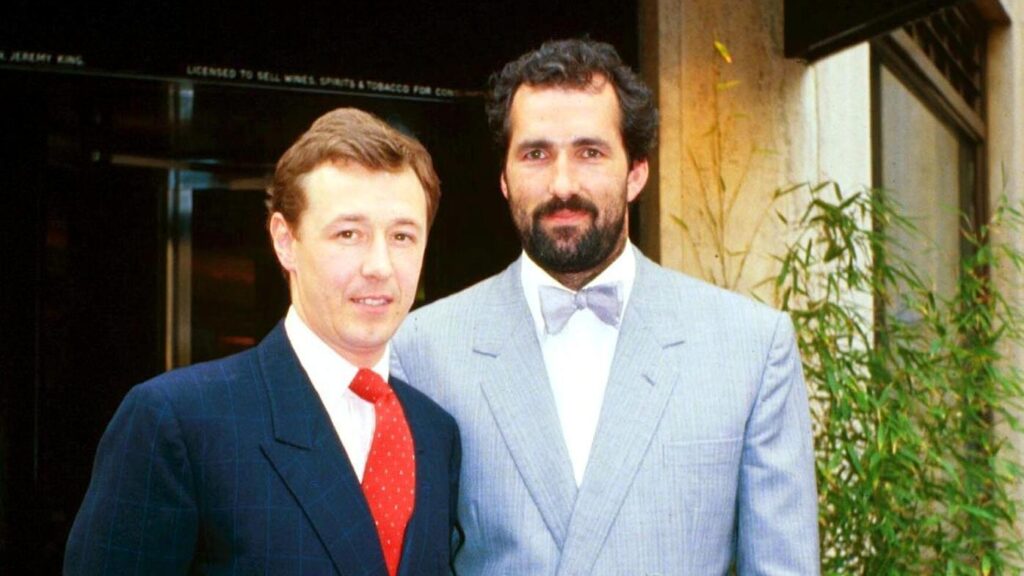 Jeremy King is to revive Le Caprice, the celebrity-magnet restaurant where he made his name alongside business partner Chris Corbin in the 1980s (Jeremy is on the right in this 1985 photograph, taken outside Le Caprice).
Originally founded in 1947, the venue behind The Ritz was closed three years ago by its most recent owner, Richard Caring, when the lease expired. Jeremy has now acquired the lease with a view to re-opening early next year.
Richard Caring still owns the name – his restaurants Bacchanalia, Sexy Fish, Scott's and J. Sheekey are variously branded as the Caprice Group and Caprice Collection – so the revival will have another title. But, in a typically eloquent statement, Jeremy has made clear it will be very much the old restaurant that he brings back to life – he has even hired Le Caprice's long-serving maître d', Bolivian-born Jesus Adorno.
"If I was to ask what 1981 meant to you, perhaps your answer would be: the wedding of Prince Charles and Diana Spencer, or Botham's heroics at Headingley, maybe Reagan getting shot or sadly the official beginning of Aids. Perhaps it meant the opening of 'Cats', or the first Indiana Jones film, maybe Soft Cell releasing 'Tainted Love' or even the Brixton Riots.
"For me however there is a different answer, because 1981 was unequivocally dominated by the opening of Le Caprice on 1 September. After a few turbulent months Chris and I managed to establish it as a contemporary restaurant unlike pretty much anything London had seen, and it was not immediately or readily embraced!
"There was of course someone else who has also been integral to Le Caprice's success over the years – Jesus Adorno – who, when Le Caprice closed with the arrival of the pandemic, had completed 38 years' service and was disappointed not to have passed the four-decade mark. Therefore, I am delighted to tell you he will now have the opportunity to complete that amazing feat, because I have just signed a lease for the site and he will be joining me as we aim to recreate a restaurant that for many of our customers, over the years was the one they professed their greatest love for. It will of course be a new version but I hope you will find it reassuringly familiar in how it looks, and what we serve. It will open early next year."
Jeremy was ousted from his company Corbin & King last year in a hostile takeover by Thai-based majority investor Minor International, which renamed it the Wolseley Hospitality Group after its best-known venue. This summer he has trailed his comeback, announcing the opening next spring of The Park opposite Kensington Gardens and another venue in the West End – possibly opposite The Wolseley. It now appears that the new Le Caprice will be the first to open.