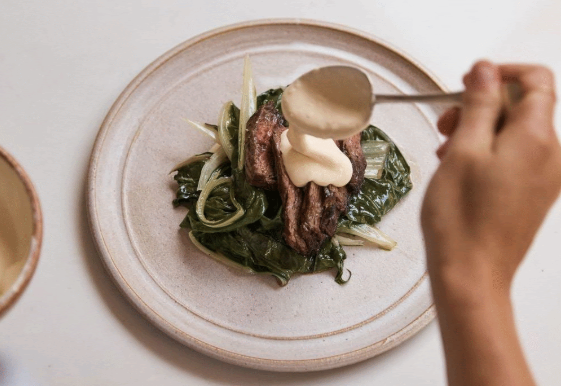 26 Grains' Alex Hely-Hutchinson will open Stoney Street in Borough Market in October.
Stoney Street, named after the street it will call its home, will be open from breakfast through to dinner and – an increasingly tired breath as the buzzwords come again – will "focus on simple seasonal dishes with a carefully considered, produce and provenance-led cooking style."
Henrietta Inman, previously of Leyton's neighbourhood restaurant Yardarm, will be head chef, bringing dishes such a s roasted tomato galette with tomato and chilli jam on fennel and coriander seed pastry; six grain and seed porridge with apples, blackberries, lemon cream, butterfly sorrel, and puffed barley; and milk crèpes with September plums, Neal's Yard yoghurt, and toasted nuts.
Lunches are to include chicory, pear and raclette salad with British raclette from neighbouring Kappacasein cheesemongers; anchovies arreganate, and for mains, focaccia sandwich with anchovy hazelnut butter, wilted cavolo nero, Yorkshire pecorino, and land cress; and cioppino served with aioli and a hunk of sourdough.
As evening approaches, candles will be lit and the kitchen will dish up simple plates for dinner including pollock with fennel, orange, olives and braised lentils; pappardelle with a sauce of wild mushroom, sorrel, tarragon, and egg yolk following the success of the pasta dishes at 26 Grains in Neal's Yard; and bavette with Swiss chard, Taleggio and slow roasted shallots.
Founder Alex Hely-Hutchinson said: "My team and I have had such an amazing journey since starting 26 Grains five years ago and have learnt so much along the way.
"Stoney Street will be a big sister to 26 Grains; slightly more refined, a longer menu, a coming of age. I can't wait to welcome friends, family, and all our new locals to our new place."
Recent News from Harden's