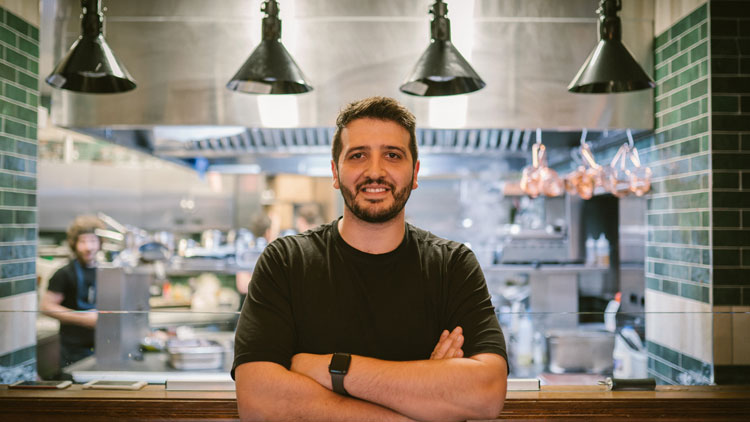 Prolific Glasgow chef-restaurateur Nico Simeone is to launch his latest venture in his home town next week – Chateau-X, with a short menu built around two Chateaubriand steaks for £30. Opening on Wednesday 8 December in Finnieston, it comes hot on the heels of Beat 6, which opened last month on the opposite side of the city in Dennistoun.
Chateau-X maintains the chef's signature approach of providing ambitious gastronomy at an extremely affordable price-point. This has brought him to national prominence with Six by Nico, whose cut-price six-course themed tasting menus, which change every six weeks, can now be enjoyed in seven cities in Britain and Ireland including, as of last month, Dublin.
Foodwise, the formula is reversed for Chateau-X, which will serve 500g grass-fed Scottish steaks as the only main option, backed up by a supporting cast of nibbles and sides, including chips and carrots cooked in beef fat. There will be four sauces for the steaks, and soft ice cream served on the house.
Nico said: "From the time we started talking about launching the Chateau-X restaurant idea, we knew everything had to revolve around the perfectly executed Chateaubriand. We've taken this much-loved restaurant classic and improved it with seasonally inspired sides and attention to every detail that will set us apart from the competition."
The idea for the restaurant grew out of Nico's lockdown delivery service Home-X, when the steak proved to be outstandingly popular.
"As a business we are really tuned into what our customers want and we invest a lot of time into researching and refining our menus. Over the past 12 months it became very clear that our Chateau-X boxes were a huge hit, with many of our customers commenting that the quality and simplicity of the ingredients allowed them to create a restaurant standard meal at home.
"The success of the Chateau-X brand so far has all been driven digitally but now it's time to bring the brand to life with our first restaurant in our home city of Glasgow. We are confident the launch will capture the hearts and taste buds of meat-loving Scots and I hope our accessible price point ensures this dining experience is accessible to many."
Recent News from Harden's