Jay Rayner in The Observer, 27 May 2018 reviewed Alchemilla, Glasgow
"The focaccia at Alchemilla is light but springy… so satisfying, such a profound pleasure, that I had to use every last ounce of my insipid willpower to decline seconds."
"Argyle Street is cool
"The food… is a thoughtful mix of great ideas and ingredients which are never overworked
"Roasted cauliflower… with Yemeni herb sauce… a multidimensional plate of food
"This food isn't intricate or precise. It is not made to be photographed. It is designed to be fabulous to eat
"Flourless chocolate and walnut cake… one squidgy spoonful and it seems to suck the very light out of the room
"At Alchemilla everything is seriously good".
Grace Dent in The Guardian, 25 May 2018 reviewed Severn & Wye Smokery
"Sits between two of these islands' most celebrated, salmon-abundant rivers
"Upstairs is a vast, semi-formal seafood restaurant and downstairs a cafe
"On paper… everything about the place screams all-new Petersham Nurseries meets a charming Countryfile segment on British freshwater fishing
"Forgettable 'King's cured smoked salmon' that comes tossed on to a plate with a handful of capers, and lukewarm salmon skin
"Intensely smoked sprats are fantastic
"A venue with huge potential that's going completely to waste
"Experimental jazz fusion kedgeree
"The best things at Severn & Wye are those they've had little to do with
"So much potentially to adore about this venture, but right now it feels like a gargantuan, directionless 
"won't lure the foodie hordes from Bristol, Cardiff and London".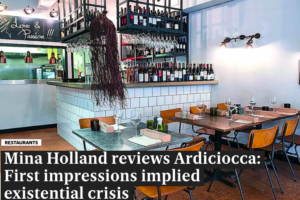 Mina Holland in The Evening Standard 24 May 2018 reviewed Ardiciocca
"Ardiciocca wasn't what I had in mind
"Claims to be London's first Italian 'gluten-sugar-dairy-guilt-free' restaurant
"First impressions implied existential crisis
"Ardiciocca … leans heavily on pickling and fermenting
"Some meals can feel like a punishment, and if that's your bag, I can't recommend Ardiciocca enough
"We left hungry, of course we did".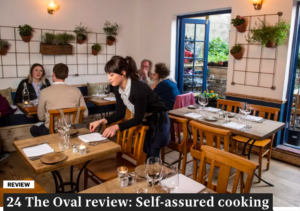 Susannah Butter in The Evening Standard 23 May 2018 reviewed 24 the Oval
"Ingredients-led dishes in an unpretentious setting
"Ticking every box of the London restaurant holy grail … outside space, it's easy for everyone to get to and not prohibitively expensive
"The  plant-decked terrace was instantly inviting
"Four separate menus — à la carte, tasting, and vegetarian versions of both
"This is not a small-plates place. … you feel like you've actually had a meal rather than been on an unsatisfying pick-and-mix tour of canapé morsels
"Giant mushroom ravioli decked with white flowers looked like a pretty sunhat
"A perfectly judged combination of distinct flavours and elements
"Simple ingredients… it's a mystery how they were made to taste so intoxicating
"Carefully thought-through food… nothing intimidating or showy 
"24 The Oval is a neighbourhood restaurant [with] enough going for it to draw people from beyond".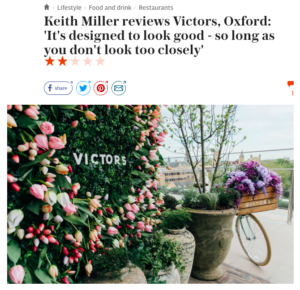 Keith Miller in The Telegraph 21 May 2018 reviewed Victors, Oxford 
"A new "Hamptons-inspired" dining destination atop Westgate (there's another one in Cheshire)
"The East Coast beachy vibe … is nowhere in evidence
"A sort of indoor-outdoor courtyard affair, with swooshy cascades of fake wisteria
"A distinctly West Coast-tinged fusion of Asian and Mediterranean influences
"The food is designed to look good if you don't look at it too closely
"The menu has something feckless about it, a kind of pointless eclecticism"
Tom Parker Bowles in The Daily Mail, 26 May 2018 reviewed the new Noma 
"Part-commune, part-cult, all grand social experiment, a philosophy made edible, an idiosyncratic statement of very Danish terroir
"Noma lives in total subjugation to the seasons
"The room itself is stealth-wealth rustic, unshowy but smart
"Service is so natural, sweet and warm that even hardened cynics like me find their cold, blackened hearts beginning to thaw
"Here, things are taken down to their true essence
"Some dishes are simple, others take endless slog to make then appear this simple
"Faroe Island sea urchin with peeled pumpkin seeds, scented with rose. Arabian Nights by way of 20,000 Leagues Under The Sea. It's one of the finest things I've ever eaten
"Prices are sky-high too, but this is once-in-a-lifetime eating, exceptional cooking infused with a purity, a precision that never ceases to dazzle."

Tim Hayward in The Financial Times 24 May 2018 reviewed Bright
"Very good thinking followed by even better cooking
"The menu is hit after hit, and the vibe — Antipodean laid-backness with savage work ethic — is completely seductive"
Recent News from Harden's