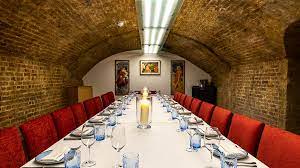 The Sandeman Port Company is reopening its restaurant The Don in its historic former headquarters in the City, following a four-year closure and a complete refurbishment.
The Don is part of what is now called the Sandeman Quarter in St Swithin's Lane, where Scotsman George Sandeman founded the company in 1790. The redeveloped premises now also includes Bar 1790, a Portuguese wine bar, the Sandeman Club members' lounge and private dining and tasting facilities in the medieval cellars.
The Don re-opens in April with a menu from head chef Toby Lever, formerly of Lutyens, who promises modern European cuisine using seasonal ingredients "that haven't been mucked about with". The wine list is said to be the best in The City, with more than 600 wines from Italy, France and Iberia, along with an extensive selection of ports. 
General manager Peter Horton said: "The Rothschilds and the Sandemans were neighbours in St Swithin's Lane from 1809 until 1967, when the Sandemans moved to larger premises. To mark this long association, we have a highlighted selection from the Rothschild wine estates around the world, including, of course, Château Lafite in Bordeaux."