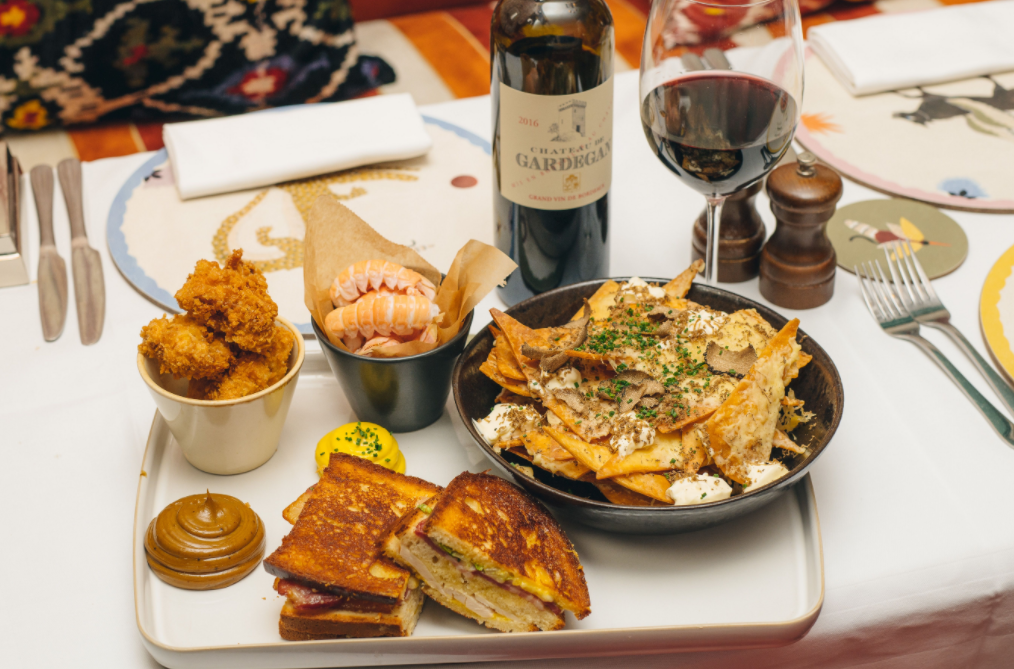 Each week in lockdown, we'll shine a light on three restaurant delivery services, either a 'DIY kit' or a takeaway meal service, we think look worth trying. Not only is it crucial to support the restaurant trade, but it also stands to reason we continue to eat well. Here's our pick for week four: fancy deals
"The Fitzdares Club's are launching their new at home delivery service from Monday 9th November.
"Keeping it simple and delicious, their luxury food package will provide their juicy Beef Wellington with all the trimmings and a sweet pear frangipane tart. Customers can choose from games such as full poker sets or bespoke backgammon boards to play in the comfort of their homes.
"The club will also prepare the Ultimate Game Day Feast consisting of Chicken dippers with black garlic Aioli, The House Scotch Egg, The Fitzdares Club sandwich with truffle mayonnaise, juicy Scottish Langoustines and Posh Nachos with double Gloucester, parmesan, black truffle and creme fraiche – what more would you need?
"All of the packages provided will come with a glorious bottle of Club Claret to wash down the Welly or drown lockdown sorrows. Both of the packages are £100 excluding delivery."
"From 9am on Tuesday 24th November you will be able to order one of the first Maray at Home boxes direct to your door wherever in the UK that door might be.
Featuring a selection of mezze, a DIY falafel kit (made to the famous 2014 recipe), lamb kofta OR aubergine shawarma, dessert and optional treats from the bar, there will be 100 boxes made available for delivery (or collection from their home on Bold Street) on launch week.
A selection of wines and ready-to-mix cocktails can be bolted on to your order, including house fave the 'Prickly Pear' (a tequila and pear base complete with bay leaf garnish to *carefully* light at home) and unique wines chosen by Bar Manager Mark Jackson (special mention to the mouthwatering Lebanese Assyrtiko from the Bekaa Valley, £17).
Tom White, co-founder of Maray, said: "We've road tested loads of boxes from across the UK and have loved the attention to detail and experience, especially from the likes of Sabor, Arabica and Elite Bistro's. Gary from Elite went as far as inviting us into the kitchen to see how they put their boxes together.
We've had such great support from our customers and community, so we really hope these boxes bring a bit of a smile back to people's faces over the next few weeks. We've tried to pour as much Maray into them as possible, from the second you tear off the tape, we want you to enjoy yourself.''
Maray at Home arrives at your door in recycled cardboard and padded with biodegradable and compostable wool, so you can feel good as well as feed, er, good."
"We may be in the midst of a second lockdown but the Gladwin Brothers are helping to give us reasons to be cheerful and get into the holiday spirit, to celebrate one of our favourite adopted holidays, Thanksgiving. The duo behind Sussex in Soho, The Shed in Notting Hill, Nutbourne in Battersea and Rabbit in Chelsea, are launching easy to prepare Thanksgiving Meal Kits available on the Gladwin's very own online store, for a fabulous American feast in the comfort of your home.
Known for bringing the best seasonal and sustainable produce from their family farm in West Sussex, guests can expect to feast on the very best local and wild food, which includes a succulent whole oven-ready Turkey wrapped in sizzling bacon with ready-to-heat sides including Crispy roast potatoes, Creamed-leek stuffed pumpkin, Sprout tops with gravy and Cranberry relish. Guests have until 12pm on Tuesday 24th November to order, for a guaranteed delivery on Thursday 26th November on Thanksgiving Day.
Lockdown 2.0 might have closed all four restaurants but the Gladwin Brothers are still here to deliver the most memorable and intimate Thanksgiving to London homes."