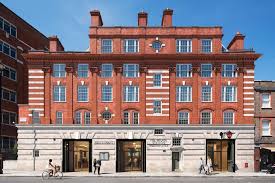 Chef Atul Kochhar's long-planned temple to South Asian gastronomy, Mathura, will finally open next week (October 20) in the Grade II listed 1906 former Westminster Fire Station in Greycoat Place – around the corner from Vivek Singh's Cinnamon Club, another grandee of Indian cuisine currently celebrating its 20th anniversary.
The 200-cover restaurant was scheduled to open two years ago before being delayed by both planning issues and the pandemic. Kochhar says it will take inspiration from the cuisines of the countries neighbouring India.
He said: "We are not just creating a menu that pays homage to all the fantastic culinary traditions throughout Asia, we are taking a fresh look at the very best that each country has to offer and coming up with a new take on Indian cuisine."
Mathura is Kochhar's central London follow-up to Kanishka, which he opened in Mayfair two year ago, and the two projects both reference the ancient Kushan Empire which straddled what is now northwestern India, Pakistan and Afghanistan 2,000 years ago, trading with both Rome and China. Kanishka the Great was its emperor, while the city of Mathura was one of his capitals. A feature of the new restaurant is the Kushan Dynasty Room, where diners will be able to enjoy a top-of-the-range tasting menu at £160 a head.
Kochhar became the first Indian chef to win a Michelin star 20 years ago at Tamarind, and achieved the same with Benares in 2007. He now has restaurants in Marlow, Amersham and Petts Wood in Kent, and is in expansion mode: he opens Masalchi in Wembley Park on 26 October, followed this winter by restaurants in Beaconsfield and Tunbridge Wells, both called Riwaz. A further venue is planned at Heathrow airport.