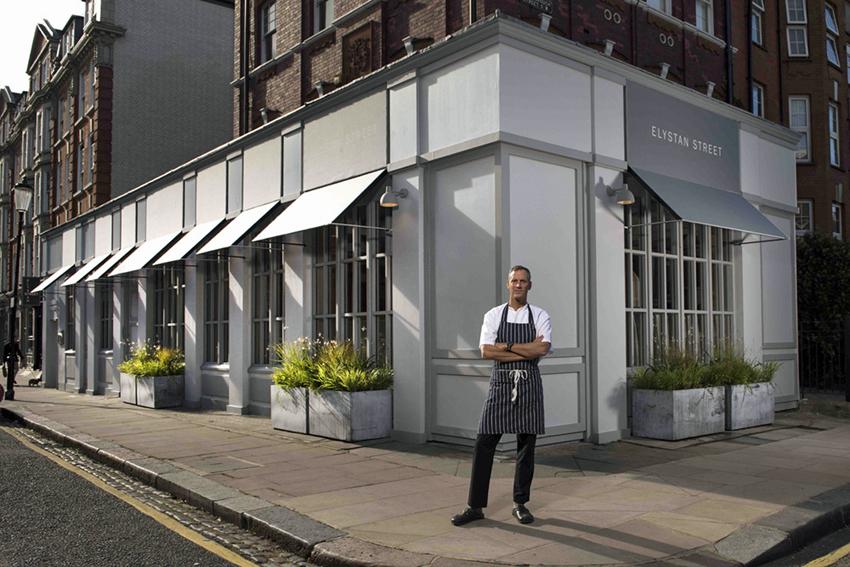 Chelsea greengrocer Andreas Georghiou is teaming up with chef Phil Howard for a special veg-focused dinner event.
The pair will host a dining event at Howard's Elystan Street restaurant on August 7, celebrating 25 years of Georghio's shop, Andreas Veg.
Over the years, the grocer has supplied everyone from Nigella Lawson to the Rolling Stones with their weekly fruit and veg, as well as the likes of River Cafe and Petersham Nurseries.
Elystan Street, with Phil Howard's 'flexitarian' menu, was one of four shortlisted restaurant nominations for 'Top Gastronomic Experience' award in last year's Harden's London Restaurant Awards, narrowly missing out to winner Marianne.
Vegetable-focused dining
The Chelsea shop is to supply Elystan Street with the ingredients for a seven-course vegetarian dinner menu. Dishes will include celeriac slaw with lovage; burrata with Provence black figs and Cappezzana olive oil; and a salad with artichokes, white corn and porcini.
Howard's team will also cook slow-roasted Reine tomatoes with cocoa beans, courgettes, Scottish girolles and wild leaves, and serve an almond tart with cherries for pudding. There's a wine pairing on offer too.
Words from Phil Howard
Howard said: "Our Elystan Street neighbour Andreas has fruit and vegetables of unrivalled quality in London, so we devised a menu packed with the very best produce, cooked simply and with bundles of love.
"We are keeping it vegetarian because we just felt it was right to do so – the produce speaks for itself."
More from Hardens