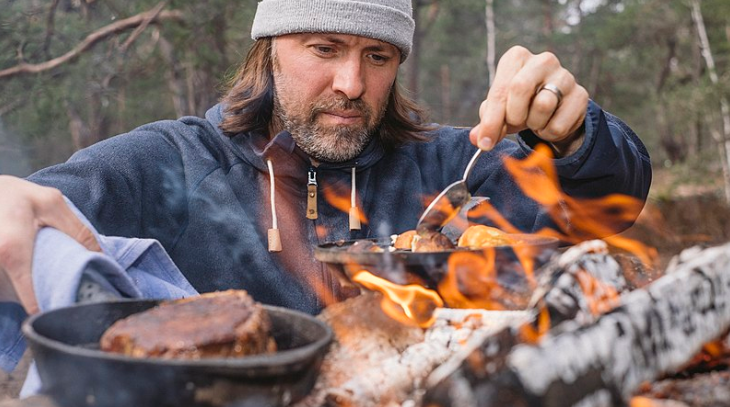 This September, the multi-award winning chef Niklas Ekstedt will open his first restaurant outside of Stockholm, launching Ekstedt at The Yard, part of Great Scotland Yard Hotel in Westminster.
Set within the five star hotel, which was once the site of the Metropolitan police, its new flagship restaurant will bring Ekstedt's signature style of wood fired 'old Nordic' cooking to the UK for the first time. The venture will replace Robin Gill's short-lived venture on this site, called The Yard, while continuing the theme of ambitious north European cuisine.
Ekstedt at The Yard will focus on Scandinavian cooking techniques using seasonal British ingredients.
The open kitchen, built to look and feel like an extension of the restaurant floor, will allow diners to see food being prepared. On the menu will be oyster flambadou with smoked apple and beurre blanc nasturtium and ember baked leeks, white fish roe, smoked roe deer; reindeer, smoked celeriac, black pudding and salt baked roots to share; and a cep soufflé with birch ice cream and blueberries.
Elsewhere on the menu Niklas will source seasonal produce from dedicated farms and producers for his daily churned butter, freshly baked bread, pickles, ferments and cultures that will all be made in-house.
Ekstedt said: "I'm delighted to be working with Great Scotland Yard Hotel to realise my dream of opening a restaurant in London. Great Scotland Yard Hotel is exactly the kind of place I had hoped to open Ekstedt in London. It is a building steeped in history, and you can't beat the location.
"This is a huge moment for me, I have been in love with the UK for years, my family moved here when we were younger, and London has always felt like a second home for me. The team and I can't wait to start cooking".
Sholto Smith, GM of Great Scotland Yard Hotel, said: "We are very excited to work alongside chef Niklas for the launch of Ekstedt at The Yard. The restaurant will be an integral part of the hotel and we are confident that he will be warmly welcomed both by our regular guests and the London food scene".
Recent News from Harden's