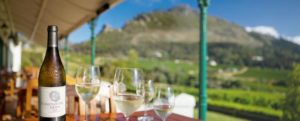 Sauvignon Blanc is one of the world's most widely-planted grapes, and (alongside Chardonnay) one which gives rise to extreme opinions. Many people associate it with one particular style, the super-ripe, super-pungent wines of New Zealand. But that style (and it can be very good indeed) is only one facet of this most versatile grape.
Sauvignon's European base is the Loire valley, in particular Sancerre and Pouilly-Fumé, where the long warm days and cool nights produce wines that are lean, fresh and aromatic – and ageworthy, as anyone who has tasted the wines of the late, gifted winemaker Didier Daguenau will tell you. In southwest France the Sauvignon is softened with Semillon, and such properties as Chateau Smith-Haut-Lafitte and Domaine de Chevalier in the Bordeaux appellation of the Graves produce some of the most sought-after white wines in the world.
New World Sauvignon Blanc, especially the cool-climate wines from Chile and Australia, can be wonderfully refreshing and complex: have a look at Asda's Extra Special label below – its crispness comes from the ocean-cooled Leyda Valley in Chile.
New Zealand, of course, has made Sauvignon its own. The signature style is often pungently green (some call it asparagus, others cats' pee), but the world is calling for leaner, racier wines – try The Ned (below), with its clean minerality, as a particularly good example of this style.
South African Sauvignon too can be lovely (as can all the wines of this remarkable country). It's warmer than New Zealand so the wines are riper and more generous, but the best have the racy acidity that is so important for structure and texture – don't miss the Ghost Corner Wild Ferment (below).
Here are ten great Sauvignon Blancs, all IWSC high medal winners, and all perfect for the coming of spring.
Blackcurrant, passion fruit, with herby spicy notes. There is refreshing lemon acidity, an elegant and crisp dry palate that gives a long lingering finish.
A beautiful dessert wine showing classic Botrytis character and layers of complexity. Aromas of quince and apricot with ripe grapefruit and honey on the palate. It combines a silky texture with excellent acid balance. A divine wine that makes you feel happy!
Citrus on the nose leads onto a mouthwateringly fresh, zesty palate. Mint and lime dominate, with clean minerality in the background and a long fruity finish.
Where to buy: Waitrose, £10.99
Pale lemon in colour with a textbook Bordeaux Blanc nose. Gooseberry and hints of pink grapefruit mingle with more citrus and peachy tropical notes. The palate has weight and yet is balanced by lovely acidity and a lingering finish.
Pale lemon green, vibrant aromas, zesty with green herbs, youthful and fresh. Lovely smooth palate packed with ripe tropical melon and peach. Ripeness give a feel of sweetness which well balances the crisp lingering acidity.
Where to buy: Cederberg Wine, R241
Crisp and zesty with pink grapefruit and fresh asparagus flavours. Delicious paired with grilled fish, seafood or Thai food.
The wine shows aromatic notes of lemon, melons and gooseberries. On the palate the lively acidity, complements fresh cut herbs and nettle notes. Very complex and intricate wine.
Where to buy: Wine Direct, £12.95
Showing some hues of green, the wine has aromas of sea breeze, asparagus and gooseberries. On the palate the wine has incredible texture with savoury finish.
Delicate, fresh and perfumed. Kiwi, gooseberries and "kakie bos" on the nose with mineral edge on the palate. Full but elegant.
Where to buy: Hard to Find Wines, £22.50
Pale lemon green; vivacious nose packed with gooseberry, kiwi and aromatic green herbs. Rapier acidity is balanced by the concentrated green tropical fruit overlaid with fresh cut grass. Youthful and pure with a long fruit forward finish.
Where to buy: Wine.co.za, R154
More from Hardens