Summary
Named after the west Cornwall promontory it's located on, this "lovely, cosy pub" on the road between St Ives and Land's End is one of the county's best known, and fans say it's "worth travelling to the end of the UK for!". The kitchen features "locally sourced ingredients" including seafood, while "staff take pride in the restaurant and hotel".
Summary
"Right on the coast miles from anywhere, but worth the journey (or better still the walk)" – this bright yellow gastropub-with-rooms is a beacon of hospitality for hungry visitors to England's wild west, a short drive from St Ives. Service is "well-meaning" but can be "wayward", while the cooking is "consistent" and can be "excellent" ("as you might expect, the fish is to be recommended").
Summary
"Well worth driving to the end of England for" – not least for the fabulous clifftop views – this bright-yellow-painted pillar of the local dining scene offers "restaurant-quality food in a friendly pub atmosphere"; from "kids' meals in two different sizes" to "very grown-up" puds, there's something to enjoy for all the family.
Summary
It's "worth travelling past the many culinary delights of St Ives" to the "end of Cornwall" where this famous, "bright yellow" venue, in a "fabulous" cliff-top setting, offers "tasty cooking", "cheerful service", and "super pub atmosphere" ("particularly good on a cold and windy day, with the weather howling outside").
Owner's description
The Gurnard's Head lies at the heart of a thinly spread rural community and is a classic example of a coaching inn. Beer is priced for local trade not the stream of seasonal visitors, always with three hand pulled Cornish ales from the likes of Skinners, St Austell, Harbour, Rebel Brewing and Cornish Crown.
Situated on the North Coast between St Ives & St Just, and surrounded by moorland and the breathtaking coastal path, The Gurnard's Head has seven bedrooms decorated using furniture sourced from auction rooms around the country, tongue and groove headboards and colour schemes using eco-friendly lime based paints.
Owners Charles and Edmund Inkin take a thoughtful approach to their food. Fruit and greenery are sourced from small growers in the immediate area. Private boat owners often provide fish. Local suppliers provide much of the other ingredients for the kitchen, including ducks from the Cornish Duck Company, pork from Ballardsfield Farm, Truro, poultry from Cornish Chicken and meat from Harveys of St. Ives.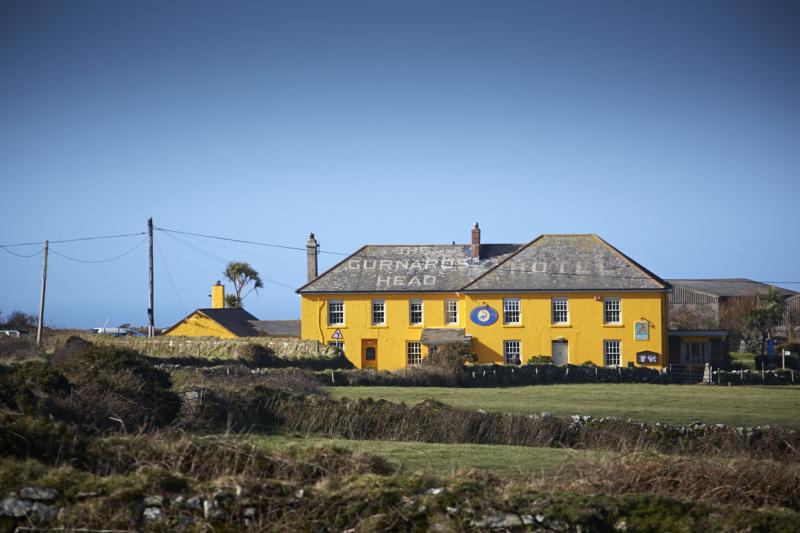 Restaurant details
Highchair, Menu, Portions
The chef
The menu takes good ingredients and gives them a very simple but classic treatment. Ingredients continue to be sourced from local growers and farmers wherever possible and seasonality ensures the highest quality.
Details of where ingredients are sourced can be found in the room notes, on the website, and on the menu. This helps direct guests to our local producers, such as Polgoon, our local apple juice supplier.
Head Chef, Max Wilson, is passionate about sustainability and locality in his kitchen and follows the company's ethos on food sourcing and on the development of talent in his kitchen; well-executed classic food, driven, understandably by the surrounding countryside and Atlantic.
The Gurnard's Head Restaurant Diner Reviews
Reviews of The Gurnard's Head Restaurant in TR26, Treen by users of Hardens.com. Also see the editors review of The Gurnard's Head restaurant.

Alia B
If you don't fall in love with this place...
Reviewed 7 months, 6 days ago
"If you don't fall in love with this place, I can't help you. Food is always sublime. It's been eleven years, for us, of never being disappointed."
Report this comment
Have you eaten at The Gurnard's Head?
Post your own review of The Gurnard's Head and contribute to our annual restaurant review guide.
Post your own review
Treen, TR26 3DE
Opening hours
| | |
| --- | --- |
| Monday | 12 pm‑11 pm |
| Tuesday | 12 pm‑11 pm |
| Wednesday | 12 pm‑11 pm |
| Thursday | 12 pm‑11 pm |
| Friday | 12 pm‑11 pm |
| Saturday | 12 pm‑11 pm |
| Sunday | 12 pm‑11 pm |
What social media is saying