Summary
"It deserves accolades" say fans of this endearing venture, which opened in 2019 "based on an ethos of local and seasonal produce that they actually deliver on! – much of the produce comes from the restaurant garden and they're passionate about transparent sourcing and about supporting local businesses". "Their small dining room is beautifully presented and they've thought of every element of the diner's experience".
For 31 years we've been curating reviews of the UK's most notable restaurant. In a typical year, diners submit over 50,000 reviews to create the most authoritative restaurant guide in the UK. Each year, the guide is re-written from scratch based on this survey (although for the 2021 edition, reviews are little changed from 2020 as no survey could run for that year).
Have you eaten at Chapters?
Owner's description
Chapters is an intimate restaurant in the heart of Hay-on-Wye right on the Welsh/English border. Serving a seasonally changing set menu with a focus on locally sourced ingredients from likeminded independent producers.
Working towards a zero-waste kitchen is one of the top priorities for the next 12 months as well as increasing the amount of produce that comes from the restaurants garden which is based in a nearby village. Foraging the local area for interesting ingredients means a preservation is key to being able to use items that are in abundance throughout the spring and summer all through the year.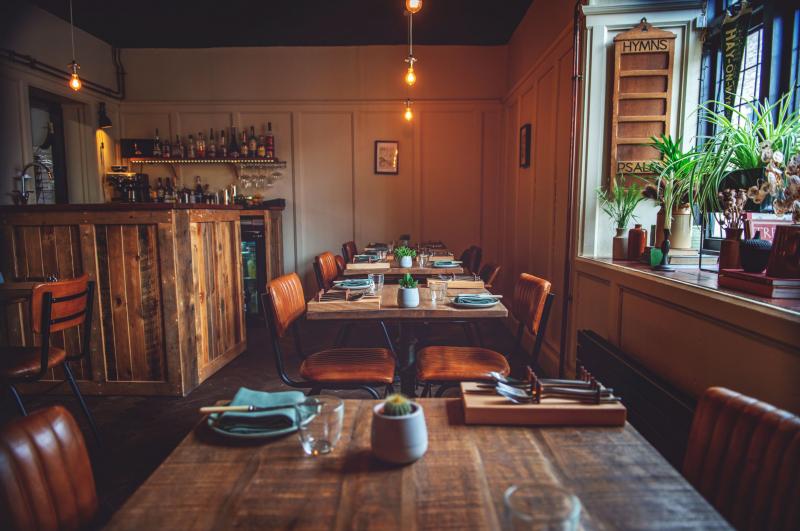 Prices
| Drinks | |
| --- | --- |
| Wine per bottle | £20.00 |
| Filter Coffee | £4.50 |
The chef
Marks natural progression up the ladder within kitchens started in Stratford upon Avon where he worked for Macdonald Hotels. He moved to the Arden Hotel in a Junior Sous position and then to Brockencote Hall both of which are part of the Eden Hotel Collection.
In 2014 he took the bold move to work for the 5* award winning Sense on the Edge mountain top restaurant for the Six Senses Resort in Zighy Bay Oman where he was promoted from Sous to Head Chef. The Six Senses resorts are built on sustainability and social responsibility and this experience gives him an amazing basis for creating Chapters own ethos.
Chapters Restaurant Diner Reviews
Reviews of Chapters Restaurant in HR3, Hay-on-Wye by users of Hardens.com. Also see the editors review of Chapters restaurant.

Amanda N
The whole experience started before our mea...
Reviewed 9 months, 29 days ago
"The whole experience started before our meal with friendly communication from Charmaine. Mark then created an original, delicious tasting menu that was presented exquisitely. Each course included exciting flavour combinations prepared by hand from locally foraged treasures. It was a truly memorable evening, in relaxed, comfortable surroundings. Culinary theatre to perfection!"
Report this comment

Ros G
Chapters gave us a fantastic experience - a...
Reviewed 10 months, 14 days ago
"Chapters gave us a fantastic experience - a lovely ambience in their tiny restaurant, personal attention from Charmaine and an amazing tasting menu from Mark. Each of the 5 courses and the amuse bouche were perfectly balanced, visually appealing and intensely delicious. Many thanks for a wonderful evening."
Report this comment
Have you eaten at Chapters?
Post your own review of Chapters and contribute to our annual restaurant review guide.
Post your own review