Summary
With more of a "neighbourhood" vibe than nearby rival Roger Hickman's – Richard Bainbridge's very accomplished venture (which opened in 2015) is likewise extolled by its fan club (which is slightly bigger than its close rival) as "the best restaurant in Norwich by miles, and really deserving of a Michelin star". "Richard and his wife, Katja, have attracted a kitchen brigade and front of house team which oozes slickly-professional but utterly-natural hospitality". Be it from the à la carte, six-course or eight-course tasting menus, "the challenge and interest which comes with each dish is stunning".
* Based on a three course dinner, half a bottle of wine, coffee, cover charge, service and VAT.
Summary
Richard Bainbridge's "bistro-style" venue punches above its weight when it comes to the quality of his "wonderful" cooking, be it from the à la carte or the "Incredibly enjoyable" 6-course and 8-course tasting menus (with meat dishes particularly well reviewed). Fans feel "it's unbelievable that it doesn't have a Michelin star" and it edged its local rival Hickman's in food ratings this year.
* Based on a three course dinner, half a bottle of wine, coffee, cover charge, service and VAT.
Summary
"If there was a new restaurant deserving culinary gongs it's this one!", say fans of Great British Chef, Richard Bainbridge's assured newcomer. Some reports note "a tension between the kitchen's ambition, and the local bistro setting" – and there's the odd gripe about "dreary, MasterCheffy cooking" – but most reporters are delighted with the "remarkable modern cuisine in a beautifully simple, yet elegant environment".
* Based on a three course dinner, half a bottle of wine, coffee, cover charge, service and VAT.
Owner's description
Benedicts opened its doors in June 2015 run by chef owner Richard Bainbridge and his wife Katja and has gone from strength to strength since. It is a contemporary bistro style Restaurant with classic values, serving modern sophisticated food in a relaxed environment and prides itself on seasonality, local produce and warm professional hospitality.
Benedicts was awarded 3 AA Rosettes In January 2018.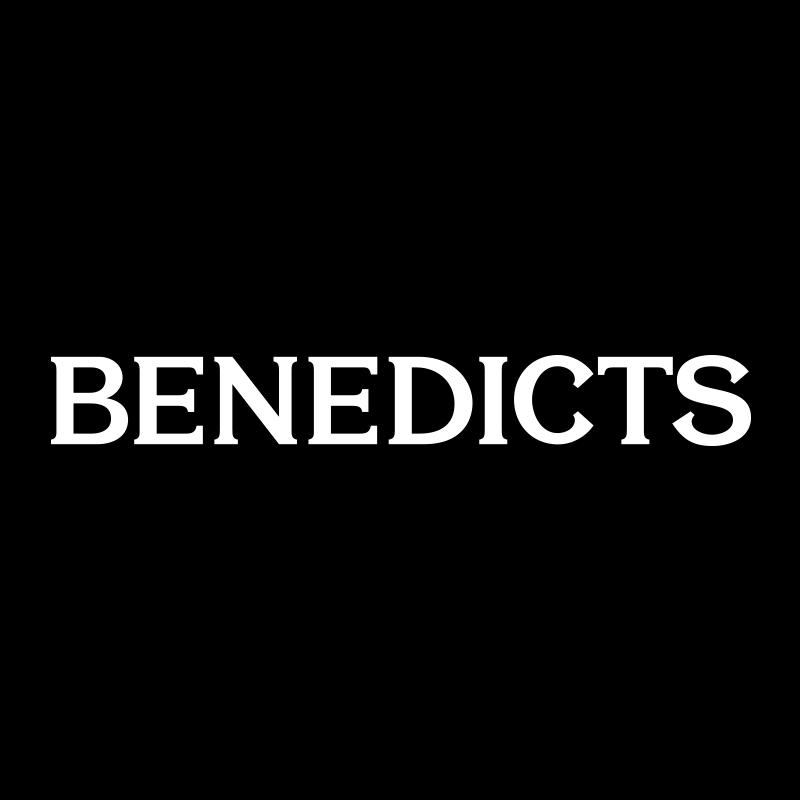 Prices
| Drinks | |
| --- | --- |
| Wine per bottle | £22.00 |
| Filter Coffee | £3.50 |
| Extras | |
| --- | --- |
| Service | 10.00% |
The chef
Richard Bainbridge has worked in some of the best restaurants across the globe, the Roux Brothers 3 Michelin Starred 'Waterside Inn' in Bray, Michelin Starred Thorntons in Dublin and worked for Gunter Seegers in Atlanta to name a few. For 7 consecutive years before opening Benedicts he was head chef at Galton Blackiston's Michelin starred Morston Hall.
Richard has been lucky to be part of BBC2's Great British Menu for several series over the past years, has won the competition in 2015 and returned as a veteran judge in 2017.
Private dining
Our Sewing Room is a private room offering an intimate dining space for 7 to 14 guests, situated on the first floor and overlooking St Gregorys Green and the vibrant St Benedicts Street.
Perfect for Birthday Celebrations, Family Gatherings, Small Weddings or Corporate Entertaining.
We offer a series of set menus designed by Richard Bainbridge. As we like to source the most seasonal produce from our suppliers these menus often change, therefore please note that these are sample menus. Our Team will contact you about a week before your event to discuss individual reception, pre dinner and wine choices. This is when you will also be sent the menu which will be served at your event.
Please visit our website for more information www.restaurantbenedicts.com/reservations/private-dining
Benedicts Restaurant Diner Reviews
Reviews of Benedicts Restaurant in NR2, Norwich by users of Hardens.com. Also see the editors review of Benedicts restaurant.

Trevor B
Good food but staff can be a bit pretentiou...
Reviewed 5 months, 14 days ago
"Good food but staff can be a bit pretentious when it comes to serving both the food and wi e"
Report this comment

Paul S
Exquisite canapés and amuse bouches. Atten...
Reviewed 6 months, 8 days ago
"Exquisite canapés and amuse bouches. Attentive service. Sensibly restricted menu."
Report this comment

Lynn T
We are regular customers. Whether we go as...
Reviewed 9 months, 26 days ago
"We are regular customers. Whether we go as a couple or with friends, we are never disappointed. The menu is exquisite with every item on the plate being carefully considered. The chefs' expertise is beyond reproach. The front of house staff are exemplary. Why this restaurant hasn't got a Michelin Star is a mystery."
Report this comment
Have you eaten at Benedicts?
Post your own review of Benedicts and contribute to our annual restaurant review guide.
Post your own review
9 St Benedicts St, Norwich, NR2 4PE
Make A Booking
Number of Diners:
Required Time:
Powered by ResDiary
Opening hours
| | |
| --- | --- |
| Monday | CLOSED |
| Tuesday | 12 pm-2 pm, 6 pm-10 pm |
| Wednesday | 12 pm-2 pm, 6 pm-10 pm |
| Thursday | 12 pm-2 pm, 6 pm-10 pm |
| Friday | 12 pm-2 pm, 6 pm-10 pm |
| Saturday | 12 pm-2 pm, 6 pm-10 pm |
| Sunday | CLOSED |
What social media is saying