Summary
"Exceptionally flavoured, and unusual, 'street-food' dishes" – "the spicing makes them stand out" – have earned consistently high marks for this "inventive" Indian for much of the decade. It compares well with the better-known Indian Zing just a few steps closer to Ravenscourt Park tube station, and is "well worth a try".
Summary
"Not your stereotypical curry house – the focus is on street food, with a menu that dares to be different and pulls it off superbly" at this "fun" and very popular Indian near Ravenscourt Park. For one or two sceptics, though, it's "good but hyped" – "other than the outstanding service, it wasn't as good as some of its local rivals".
Summary
"The menu changes regularly and is really worth exploring" at this "fun and busy Indian" on the 'restaurant row' near Ravenscourt Park – its "well judged" and "unusual" street food dishes deliver "vibrant" tastes that fans find "quite unbelievable". "I've taken at least 50 friends there in the last 12 months and all have returned to eat there!". Top Menu Tip – "black daal that's cooked for 24 hours".
Summary
"Better than Indian Zing!" (nearby). This "exceptional and stylish" Hammersmith venue ("crowded and filled with artefacts from India") offers cooking that's "a great deal more accomplished than the street food it bills itself as" – "everything excites the palate, from the cocktail blending basil, cardamom and limoncello with gin, to the last scraping of the gloriously decadent mango shrikhand".
Owner's description
Potli – An Indian Market Kitchen, the first Indian bazaar style restaurant to pop up in London, opened in August of 2011. Potli brings to the city the best of street market cuisine from all across the Indian subcontinent by marrying home-ground spices with fresh local produce, and serving its guests in an environment that makes them feel transported far East of London. Rather than giving itself the image of a formal dining environment, Potli has created a place where people can feel like guests in Indian marketplace, and come in for a wholesome and hearty meal.Very soon after opening, the restaurant earned a spot on the Michelin list which it is proud to say it has maintained every year since then thanks to the hard work and dedication of the team.
In 2015, Potli was featured in the TV series 'Chefs on Trial' on prime time BBC. This subsequently attracted many newcomers who had yet to experience the pleasure of a shared meal at the restaurant. Indeed, Potli has been recognised as one of the best Indian restaurants in London by many food critics and magazines. Listed in Tatler-restaurant guide in 2012 has a huge impact to be a popular Indian cuisine in London for Potli. Being listed in Michelin Good Food guide several times, Potli has a very good reputation within the local communities. Harden's has given one of the best rating and comment for the year 2017 (See above).
Opening times
Monday-Thursday 12:00pm-2:30pm & 6:00pm-10:15pm
Friday and Saturday 12:00pm-2:30pm & 6:00pm-10:30pm
Sunday Open all the from 12:00pm-10:00pm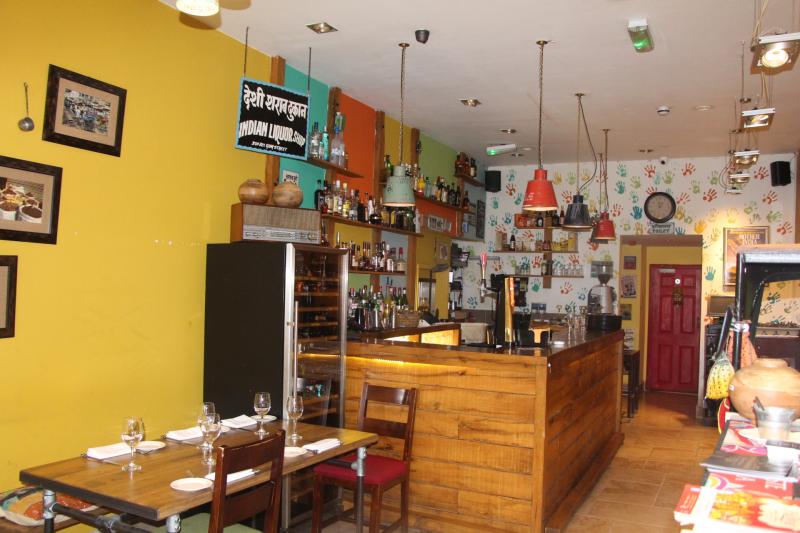 Prices
| Drinks | |
| --- | --- |
| Wine per bottle | £23.00 |
| Filter Coffee | £2.50 |
| Extras | |
| --- | --- |
| Bread | £2.00 |
| Service | 12.50% |
The chef
Our head of kitchen department, chef Babul Dey, joined company since the first day of establishment in 2011. Joining as an assistant chef in 1990 from a restaurant called Tandoori Night in Hammersmith, UK, he has a really long journey to be a successful head chef. A reliable, very trustworthy, flexible being and being a real enthusiasm, he has the unique techniques to give every dishes to their real flavours. A secret fusion to make every home grounded Indian spice's level to give justice to curries up to customer's satisfaction is his so far undisclosed secret according to him. Chef Babul has comprehensive understanding of the curries house, and of what drives sophisticated contemporary dining. Having the extensive cooking knowledge, and is more than able to abide by all legal requirements, food hygiene regulations and food safety laws and regulating the team according to, Potli has maintained to be in different good food guides several times and also 5-star food and hygiene rating from the local council.
Private dining
Potli will be one of the best destination to book up for any kind of private dining parties. We can accommodate a party up to 35 people with the live kitchen view. Traditional Indian style private dining hall decorated with classical Bollywood frames and handcrafts on the wooden wall. Mirror on the sofa side can reflects the theatre of kitchen action. This will be a very exciting moment during the meal to keep your eyes with chef's activities as well. If you are looking for any outdoors parties according your choices of dishes, you can contact us as well. We also cater for wedding, parties, corporate and media events, and can design specialised to suit every occasions. Please do visit http://potli.co.uk/ for more information.
Set Menus for party:
Potli Silver Set menu
https://potli.co.uk/wp-content/uploads/2017/10/silver-plan.pdf
Potli Gold Set menu
https://potli.co.uk/wp-content/uploads/2017/10/gold-plan.pdf
Potli Platinum Set menu
https://potli.co.uk/wp-content/uploads/2017/10/platinum-plan.pdf
Potli Restaurant Diner Reviews
Reviews of Potli Restaurant in W6, London by users of Hardens.com. Also see the editors review of Potli restaurant.

Antoneta H
An excellent lunch time deal...
Reviewed 8 months, 3 days ago
"An excellent lunch time deal"
Report this comment
Have you eaten at Potli?
Post your own review of Potli and contribute to our annual restaurant review guide.
Post your own review
319-321 King St, London, W6 9NH
Opening hours
| | |
| --- | --- |
| Monday | 12 pm‑2:30 pm, 6 pm‑10:15pm |
| Tuesday | 12 pm‑2:30 pm, 6 pm‑10:15pm |
| Wednesday | 12 pm‑2:30 pm, 6 pm‑10:15pm |
| Thursday | 12 pm‑2:30 pm, 6 pm‑10:15pm |
| Friday | 12 pm‑3 pm, 5:30 pm‑10:30 pm |
| Saturday | 12 pm‑3 pm, 5:30 pm‑10:30 pm |
| Sunday | 12 pm‑10 pm |
What social media is saying