Summary
"Proper jamon, a good selection of small plates, and an excellent Spanish wine list with a wide range of good sherries" – "a great drinks list with something for everyone" – help inspire positive reviews on this Hispanic newcomer – "a great new addition to Bristol" and the first English branch of a small minichain originating near Cardiff.
Owner's description
The first Bar 44 was founded by two brothers, Tom and Owen Morgan, in 2002. Having fallen in love with Spanish food, drink and culture throughout their formative years, they want to bring their favourite tapas dishes and a slice of modern Spanish culture to the UK.
Over the course of the last 16 years, the Bar 44 Group has grown organically into one of the leading Spanish hospitality companies in Britain.
Based in South Wales and the West Country, there are now four Bar 44 outlets, in Cowbridge, Penarth, Cardiff and Bristol. Each bar offfers different food and drink menus in order to showcase the huge variety of quality Spanish produce available. All the menus are a reflection of Tom and Owen's travels across Spain, showcasing outstanding produce such as Galician beef, Sanlúcar prawns, Carmona olives, and aged Manzanilla sherry, the list goes on and on.
The focus at Bar 44 is on impeccably sourced ingredients served simply with a modern touch and a whole load of passion from our kitchen and front of house teams.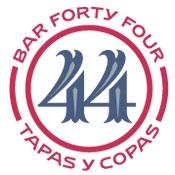 Prices
| Drinks | |
| --- | --- |
| Wine per bottle | £17.00 |
| Filter Coffee | £2.80 |
| Extras | |
| --- | --- |
| Bread | £3.70 |
| Service | 10.00% |
Private dining
Two underground vaults have been transformed into private dining rooms for groups up to 12 in each.
The sherry (Xixarito) and cava (Vilarnau) rooms reflect the history of the theme that they represent. Beautiful reclaimed tables, over-sized rugs on tiled floors, low ceilings, atmospheric lighting, candles and brass-studded chairs give the rooms a very intimate and cosy feel.
Both rooms are available for breakfast (8am - 11am, lunch (from 12 oon - 5pm) and dinner (from 6pm - midnight). The rooms are suited to private parties as they are to corporate bookings or all day meetings. They provide the perfect setting for entertaining clients, friends or family.
We have put together as selection of menus. Specific dietary requirements can be accomodated and bespoke menus created to meet your needs. We have an exceptional drinks and wine list for you to choose from, we could also created a paired food and wine menu should you wish.
At lunchtime, should you wish to use the rooms for a meeting, we would be happy to discuss lunch served in the restaurant or in the other dining room if vacant.
18 - 20 Regent Street, Bristol, BS8 4HG
Make A Booking
Number of Diners:
Required Time:
Powered by ResDiary
Opening hours
| | |
| --- | --- |
| Monday | 11.30-11 pm |
| Tuesday | 11.30-11 pm |
| Wednesday | 11.30-11 pm |
| Thursday | 11.30-11 pm |
| Friday | 11.30-11 pm |
| Saturday | 11.30-11 pm |
| Sunday | 11.30-11 pm |
What social media is saying