Summary
A modern take on Greek cuisine in Marylebone hailed for its "authentic food and lively atmosphere (crowded and noisy inside but good outside on a fine day)". Other plus points include "friendly, helpful service" and "a nice selection of Greek wines" – in fact, there's "little to complain about, except perhaps the pricing". A more casual street-food offshoot, Pittabun, opened off Carnaby Street last year.
* Based on a three course dinner, half a bottle of wine, coffee, cover charge, service and VAT.
Summary
"Put aside your preconceptions of Greek food" say fans of this "buzzy and fun" Marylebone corner café, serving Greek-with-a-twist cuisine that won't break the bank, from breakfast on.
* Based on a three course dinner, half a bottle of wine, coffee, cover charge, service and VAT.
Summary
Limited and uneven feedback on this casual Marylebone three-year-old. Fans are delighted with its modern Greek-with-a-twist dishes and cleanly designed interior, but its detractors rate it as average on both these counts.
* Based on a three course dinner, half a bottle of wine, coffee, cover charge, service and VAT.
Summary
"The food is amazing" ("my beetroot and green bean salad was to die for!") at this modern Greek two-year-old in Marylebone… "even if the set lunch is pretty expensive, and the portions teeny-tiny".
* Based on a three course dinner, half a bottle of wine, coffee, cover charge, service and VAT.
Owner's description
OPSO [gr. ΟΨΟ] is an ancient Greek word for a delectable morsel of food, a delicacy. Our name reflects our concept. Inspired by traditional and contemporary Greek tastes, we create modern Greek tapas based on high quality ingredients, most of which are supplied directly from Greece. We focus on social style dining, food to be shared and enjoyed amongst family and friends in a laid-back, lively atmosphere.
Walk-in casual and impromptu or on a planned night outwit reservation. Start with an aperitif at the bar and spark your appetite for the choice of special culinary delights that awaits you. Select a fine Greek wine from our well-prepared wine list to complete a contemporary Greek dinner experience.
Also at dinnertime, OPSO's bar area transforms into Marylebone%u0384s unique bar spot. Exciting cocktails come to life from the capable, experienced hands of our mixologist. Liqueurs and spirits imported from Greece, like mastiha and tsipouro, merge together in novel combinations. Unique flavors for the ultimate cocktail experience.

If you are up for brunch, Unwind and enjoy our renowned Greek hospitality in a stylish modern setting. Choose from a variety of Opso's signature free-range egg dishes accompanied by our scrumptious breads and pastries, freshly baked in-house. Sip one of the many creative cocktails from our bar, based on Greek liquers and spirits and feel the tensions of the week slip away.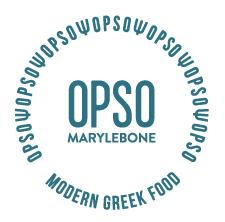 Prices
| Drinks | |
| --- | --- |
| Wine per bottle | £35.00 |
| Filter Coffee | £3.50 |
| Extras | |
| --- | --- |
| Bread | £3.00 |
| Service | 12.50% |
Private dining
Based on the lower ground floor of the restaurant, decorated with fine Greek products and wines, it can accommodate exclusive large bookings for all kinds of events.
Whether you are looking for a formal dinner, a corporate event, a book presentation or a product launch or just a family reunion, a wedding or birthday celebration, or just a friends gathering, the Larder room is the ideal venue.
Appropriate for either an exclusive seated lunch or dinner or a standing cocktail party, the dining space can accommodate up to 54 guests seated or 75 guests in case of a standing event.
Our team will make sure to create a bespoke sharing menu to be enjoyed by the whole table, so all guests can sample exclusive and unique tastes through our Modern Greek Tapas, with prices starting at £28 per person.
Further information
Ψ Capacity for a seated dinner: up to 54 guests
Ψ Capacity for a standing/cocktail reception: up to 75 guests
Ψ Audiovisual equipment can be hired upon prior arrangement (additional fee)
Ψ Menu cards and place cards can be printed upon request
Ψ Private hire available, with either a minimum spend or a hiring fee, on a case to case basis
Ψ Option to use your own music if hiring the space for your exclusive use
Ψ Separate entrance to the Larder Room available (please note there are stairs to go down and that no lift is provided)
Ψ Exclusive use of the restrooms if hiring the space privately
Join us for an exclusive day or night, accompanied by fine Greek tastes and spirits!
Opso Restaurant Diner Reviews
Reviews of Opso Restaurant in W1, London by users of Hardens.com. Also see the editors review of Opso restaurant.

Lawrence P
A disgraceful Greek establishment. How it ...
Reviewed 1 months, 3 days ago
"A disgraceful Greek establishment. How it obtains good ratings is beyond us. The mezza was mediocre, served with too few pieces of bread. A request for more pita bread resulted in a £5 change. The lamb shank was so disgusting in appearance that it was rejected. The moussaka would have been rejected by Chef Boyardee. No reason for a return visit."
Report this comment

Clifford B
Little to complain about except, perhaps, p...
Reviewed 8 months, 4 days ago
"Little to complain about except, perhaps, pricing. If it was 10% cheaper the review numbers would be higher."
Report this comment
Have you eaten at Opso?
Post your own review of Opso and contribute to our annual restaurant review guide.
Post your own review
10 Paddington St, London, W1U 5QL
Make A Booking
Number of Diners:
Required Time:
Powered by OpenTable
Opening hours
| | |
| --- | --- |
| Monday | 12 pm-4 pm, 6 pm-11:30 pm |
| Tuesday | 12 pm-4 pm, 6 pm-11:30 pm |
| Wednesday | 12 pm-4 pm, 6 pm-11:30 pm |
| Thursday | 12 pm-4 pm, 6 pm-11:30 pm |
| Friday | 12 pm-4 pm, 6 pm-11:30 pm |
| Saturday | 10 am-4 pm, 6 pm-11:30 pm |
| Sunday | 10 am-4 pm, 6 pm-11 pm |
What social media is saying