Breaking news
Joining Gidleigh Park in September 2019, Chris Eden arrived from Driftwood in Cornwall after 12 illustrious years as Head Chef. Chris was awarded a Michelin star in 2012, becoming the first Cornish born chef to hold a star in their home county.
Summary
Possibly "not as good as in the days of Michael Caines… but still a joy to behold". It's SatNavs at the ready, as you charge down single-track lanes on the fringes of Dartmoor to discover this plush gourmet Shangri-la, set in 100 acres of picturesque grounds. Andrew Brownsword's famous Tudorbethan manor house has long been one of the UK's foremost culinary destinations, but has not hit a proper stride since Michael Caines left (after 21 years) in 2016. Since that time, the hotel has seen a steady succession of new chefs. Michael Wignall came and went. Then Chris Simpson, lasted a year but he moved on in January 2019. Then, in October 2019, the establishment lost the second of the two Michelin stars it formerly held. The upheavals of this period have notably decreased the volume of survey feedback we receive, and there is also the odd disappointing report, too. What's more eye-catching, however, is the resilient quality of the team, and the relative consistency of both ratings and commentary we receive (for example – "we got there and the executive chef had left two weeks before. The head chef had taken over and still did a brilliant job, the sommelier also did a stunningly good job; I am not always the best customer as I like to ask questions, but the service was absolutely excellent throughout"). In September 2019, Chris Eden joined from Cornwall's Driftwood – perhaps he's the man finally to capitalise on the enduring potential and appeal here?
Summary
Chris Eden "has made a good start" (taking over the baton from Chris Simpson in September 2019) at this famous culinary Xanadu: a Tudorbethan mansion down a one-track lane on the borders of Dartmoor in gorgeous gardens that was regularly hailed by our diners' survey in Michael Caines' era, a few years ago, as the UK's top gastronomic destination. On most accounts "it's still maintaining its high standard of food and the superb wine list" and fans say that "if you're looking for an exceptional foodie experience look no further". A number of return visitors, however, this year, judged it inferior to their previous trip, especially when it came to value at the vertiginous prices. "Quibbles taking it from 5/5 to 4/5 are the wildly overpriced wine list and the sameness of some of the courses". Also, "the set of small rooms are somewhat awkward", and for style-conscious types "the 1970s-styling, with unsympathetic lighting and heavy curtains" raises the query "time for a refurb?"
Summary
"Michael Wignall's has perhaps even surpassed Michael Caines" at this famous culinary Shangri-La – a "special" Tudorbethan manor house in the narrow back-lanes bordering Dartmoor ("if your looking for a special foodie break, then this is just the place"). "The exceptional tasting menus top anything the chef formerly produced at Pennyhill Park, with a magnificent balance of tastes and textures" ("sound absurd but marry perfectly"), and "the intelligent sequencing of dishes" helps create "a sensational gastronomic treat". There's "a marvellous wine list" too and "top class service". "After a meal you can sink into comfortable chairs in the plush lounge for coffee and then wander around the beautiful grounds: as an all-round experience, it's hard to beat".
Summary
"Obviously everyone was nervous about the departure of Michael Caines, but fear not!" – "Michael Wignall is off to a fine start" at this famous Tudorbethan manor house discovered "after a terrifying drive up a narrow lane" on the fringes of Dartmoor. Once ensconced, there's the chance to "relax in the beautiful lounge and enjoy a warm welcome" amidst a setting of "country sophistication", before moving onto the main event in the dining room. The new kitchen's output is "utterly amazing – so quirky and gorgeous" and backed up by an "exceptional wine list".
Owner's description
At the heart of the hotel, the elegant and intimate award-winning restaurant provides a sophisticated backdrop to our decadent tasting and à la carte menus.
Matching the high standards in the kitchen, Gidleigh Park's internationally renowned wine cellar accommodates over 1,300 bins and 13,000 bottles from around the world. Home to a selection of European, New World and Bio Dynamic wines, the cellar offers one of the most impressive wine lists in the British Isles.
Join us for lunch, afternoon tea or dinner and enjoy your choice of tasting or à la carte menus, dedicated to the finest seasonal ingredients.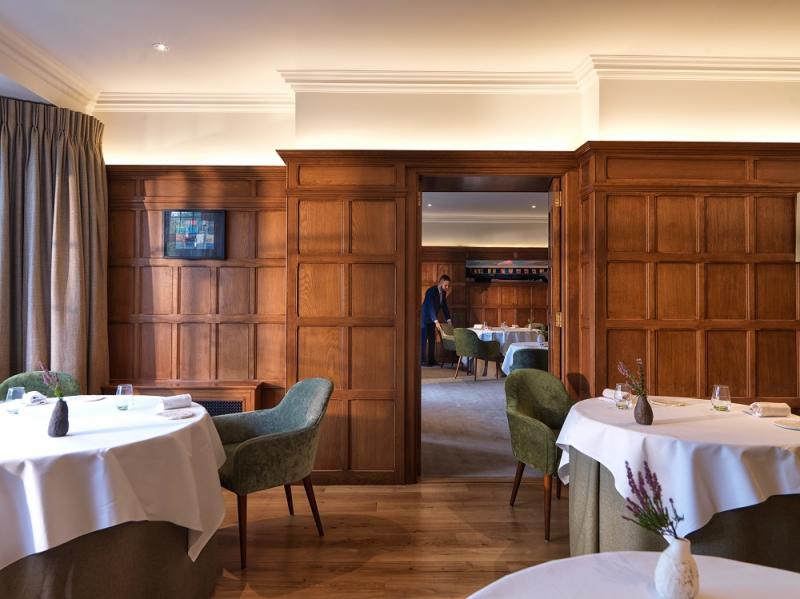 Prices
| Drinks | |
| --- | --- |
| Wine per bottle | £55.00 |
| Filter Coffee | £3.00 |
| Extras | |
| --- | --- |
| Service | 10.00% |
The chef
Joining Gidleigh Park in September 2019, Chris Eden arrived from Driftwood in Cornwall after 12 illustrious years as Head Chef. Chris was awarded a Michelin star in 2012, becoming the first Cornish born chef to hold a star in their home county. Retaining the star ever since, Chris was additionally awarded a fourth AA rosette in 2018, becoming just one of four chefs in Cornwall to hold this accolade.
Bringing his produce-led ethos to the kitchens of Gidleigh Park, Chris' style is beautifully laced with touches of adventure and invention, creating refined plates where flavour is king.
Chris' passion for great produce is infectious, always handled with exceptional skill and care. The seasonal bounty from the hotel's kitchen garden informs Chris' menus and his dishes are regularly changing to reflect the seasonality and availability of ingredients. The Garden Salad, for example, changes daily depending on the fresh vegetables picked that day and plump summer gooseberries are made into chutney to accompany the cheese course, also served with honeycomb from the Gidleigh Park estate.
Undeniably refined with an exacting technique, Chris is also renowned for his honest, unfussy approach to cooking. His menus are contemporary with a nod to tradition, supporting local Devonshire farmers and producers to ensure that only the finest quality ingredients make it on to the plate
Chagford, TQ13 8HH
Opening hours
| | |
| --- | --- |
| Monday | 12 pm‑2 pm, 7 pm‑9 pm |
| Tuesday | 12 pm‑2 pm, 7 pm‑9 pm |
| Wednesday | 12 pm‑2 pm, 7 pm‑9 pm |
| Thursday | 12 pm‑2 pm, 7 pm‑9 pm |
| Friday | 12 pm‑2 pm, 7 pm‑9 pm |
| Saturday | 12 pm‑2 pm, 7 pm‑9 pm |
| Sunday | 12 pm‑2 pm, 7 pm‑9 pm |
What social media is saying