Summary
The "fantastic", "properly spicy and tasty" Indian cooking at this Mayfair two-year-old is "definitely of the quality and invention of Jamavar" – its celebrated stablemate nearby. Taking inspiration from Mumbai street and comfort food invites the comparison to an "upmarket Dishoom", while the departure of founding chef Rohit Ghai has thus far only had limited impact on the excellent ratings.
Summary
"The spicing is fantastic – very authentic", at Samyukta Nair and Rohit Ghai's Mayfair newcomer, on the former site of Hibiscus (RIP), which takes the Mumbai institution of tiffin (and the trains the dabbawalas use to deliver it) as its theme. Many "wonderful" meals are reported in feedback that includes nothing but praise.
Owner's description
Mumbai is a city built on traditions, filled by an endless influx of dreamers, working professionals, and those seeking their fame and fortune; A true melting pot. In one moment you can be in old world Bombay and the turn of a street corner will thrust you into an urban amalgamation. In this complex, bustling metropolis, the tiffin carriers are a constant, bridging the distance between work and home, between different cultures and diverse regional cuisines, with their near-clockwork precision.
Traditionally towered boxes brimming with food made in the homes of the working community, tiffins are transported to their intended recipient through a complex route of local trains, handcarts and bicycles. The path of each tin is carefully navigated by the tiffin carriers, with each being marked by an individual code; a carefully crafted system which has been at the centre of day to day life in Mumbai for decades.
Bombay Bustle captures the essence of Mumbai, our love of home comforts alongside our rapid pace of life, both existing side by side. The restaurant is a place just as well suited to a leisurely dinner with friends as a quick lunch for one, always inspired by Mumbai's diverse flavours, and home style cooking
The menu sees re-creations of some of the city's most loved dishes alongside family recipes, from Misal pao topped with potato salli, to Kolhapuri spiced spit roasted chicken.
Designed by Fabled Studio, the space reflects erstwhile Bombay's train system, built as an offshoot of the first railway in British India, and vibrant art deco buildings juxtaposed with the organized chaos of modern Mumbai.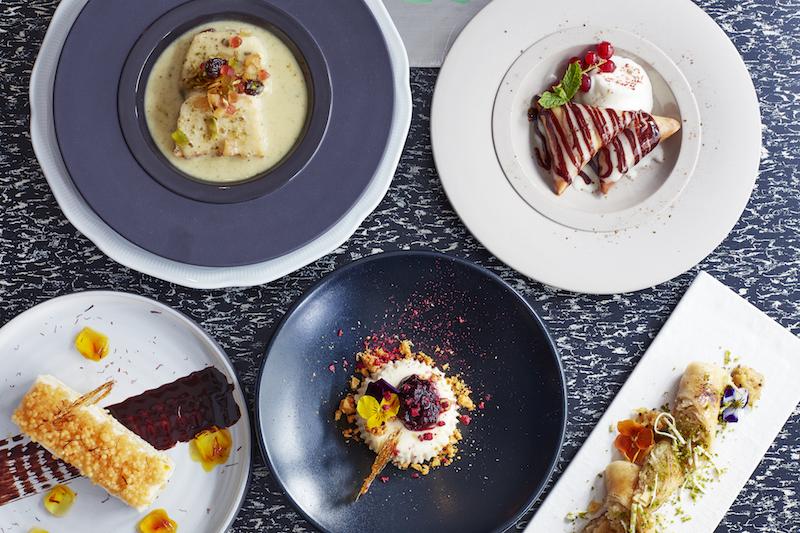 Prices
| Drinks | |
| --- | --- |
| Wine per bottle | £40.00 |
| Filter Coffee | £3.95 |
| Extras | |
| --- | --- |
| Service | 12.50% |
Bombay Bustle Restaurant Diner Reviews
Reviews of Bombay Bustle Restaurant in W1S, London by users of Hardens.com. Also see the editors review of Bombay Bustle restaurant.

Miles T
Hells Bells. The loudest restaurant I've ev...
Reviewed 5 months, 18 days ago
"Hells Bells. The loudest restaurant I've ever been in. Terrible atmosphere destroyed the inventive food"
Report this comment

Steve C
Yet another upscale Indian restaurant in an...
Reviewed 8 months, 26 days ago
"Yet another upscale Indian restaurant in an increasingly crowded market, but it does what it does very well. Delicious chops (not quite to Tayyabs standards, mind you) and a varied and interesting menu. "
Report this comment
Have you eaten at Bombay Bustle?
Post your own review of Bombay Bustle and contribute to our annual restaurant review guide.
Post your own review
29 Maddox Street, London, W1S 2PA
Opening hours
| | |
| --- | --- |
| Monday | 12 pm‑2:30 pm, 5:30 pm‑10:30 pm |
| Tuesday | 12 pm‑2:30 pm, 5:30 pm‑10:30 pm |
| Wednesday | 12 pm‑2:30 pm, 5:30 pm‑10:30 pm |
| Thursday | 12 pm‑2:30 pm, 5:30 pm‑10:30 pm |
| Friday | 12 pm‑2:30 pm, 5:30 pm‑10:30 pm |
| Saturday | 12 pm‑2:30 pm, 5:30 pm‑10:30 pm |
| Sunday | 11 am‑8 pm |
What social media is saying