Breaking news
July 2020: The Five Fields will be reopening on Tuesday 4th August, offering a new seasonal menu.
Summary
"More like the Elysian fields!": Taylor Bonnyman's "congenial" but "unpretentious" Chelsea HQ (founded in 2013) doesn't court publicity, but emerged with the survey's highest food rating this year. With its "sophisticated" interior, "spectacular wine list" and "wonderful" service – "impeccably timed, professional, yet warm" – it's long been hailed as an "outstanding all-rounder". But it has hit a particularly impressive and consistent culinary stride in recent times, with not a single negative report received this year (and we received many reports). Head chef, Marguerite Keogh "strives for perfection, and the care and attention to detail of ingredients processed and plated is second to none", delivering "divinely flavoured dishes" in a mould that's "classic in style, but very modern in execution" – "witty and inventive, without being up itself or over-fussy". Much of the produce is sourced from the restaurant's own garden in East Sussex. Choose at lunch or dinner from a prix fixe three-course menu or alternative tasting option.
Summary
"Fabulous on all levels" – Taylor Bonnyman's "utterly exceptional" dining room, "hidden in the heart of Chelsea" provides "not only a real treat, but a genuinely interesting gastronomic experience". "Beautifully crafted, creative food combinations are served with professional yet genuine charm" in "such a beautiful space". "It's difficult to find any fault" – if you tried hard you might say that the "decor is a bit 'posh restaurant'".
Summary
"The Elysian Fields?" – Taylor Bonnyman's "graceful and intimate dining room", tucked away in Chelsea offers an "exemplary experience", which for all-round quality and consistency has few rivals in the capital. "Phenomenal cooking" – from either the prix fixe or tasting menu – is delivered by "faultless, thoroughly attentive yet unpretentious" staff and "a contented buzz in the room ensures the ambience is never hushed".
Summary
"The epitome of fine dining, minus the stuffiness" – Taylor Bonnyman's "unflashy and grown-up" three-year-old, "tucked way in Chelsea" offers "an all-round fantastic experience". The setting is "elegant", service "genuine and unpretentious"; while the cuisine is "truly exceptional – exciting, yet accessible and (most importantly) delicious" ("expect an astonishing array of amuse bouches"). Until October 2016, this was perhaps "Michelin's most shocking omission", but finally the tyre men divvied up the requisite star.
Owner's description
A native Londoner, Taylor Bonnyman's cooking encapsulates the spirit of the capital. With a foundation built on British produce and seasonality, the cooking incorporates influences from London's broad cultural complexion and outward-looking philosophy.
Taking inspiration from the seasons, dishes reflect the aesthetics of nature and are a snapshot of the current landscape while the design of the dining room has taken inspiration from the original green fields between Chelsea and Knightsbridge where once there was open space and fresh produce taken in to London.
The main dining room is elegant and understated with pale lime-washed floors, copper backed hessian walls and features sculptured works by Sophie Dickens.
Service is delivered with aplomb by a team as warm and welcoming as they are professional and knowledgeable.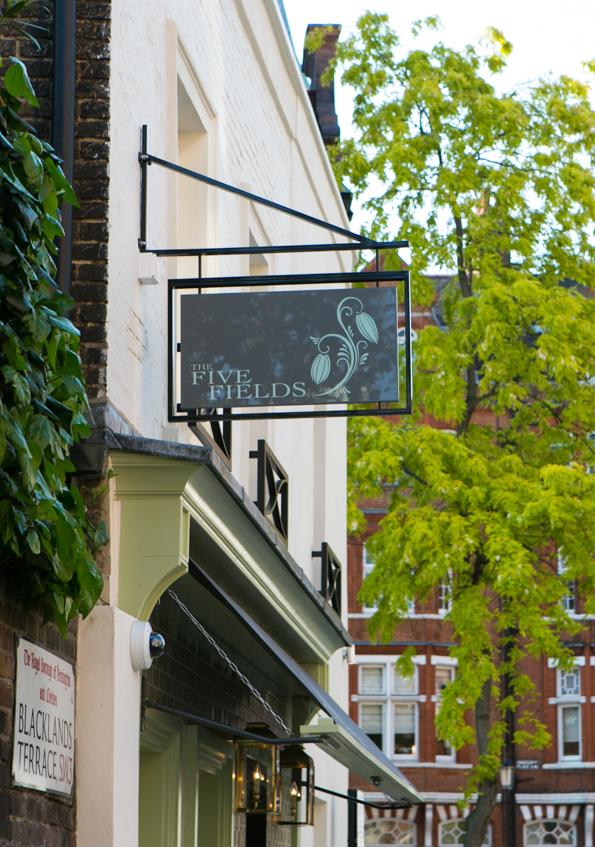 Prices
| Drinks | |
| --- | --- |
| Wine per bottle | £30.00 |
| Filter Coffee | £4.50 |
| Extras | |
| --- | --- |
| Service | 12.50% |
Private dining
Named after John Rocque, an 18th century cartographer whose wonderfully detailed panels offer a glimpse of Georgian London where this area is referred to as "The Five Fields"; The Rocque Room can accommodate up to 10 guests for Lunch or Dinner.

Located on the first floor of the restaurant and overlooking the charming side streets of Chelsea, The Rocque Room is decorated in warm subtle tones and offers a view into our extensive Wine Cellar as well as a feature fire place.

Guests may choose between two of the Chef's set menus, which are offered along with a number of additional indulgences including canapés, amuse-bouche, tea, coffee and petit fours.

A cosy lounge adjoins The Rocque Room and is available for drinks to welcome your guests before dining or after your meal.

For enquiries into booking an event in The Rocque Room please ring 020 7838 1082 or email Ceri@fivefieldsrestaurant.com.
The Five Fields Restaurant Diner Reviews
Reviews of The Five Fields Restaurant in SW3, London by users of Hardens.com. Also see the editors review of The Five Fields restaurant.

Richard F
Beuatiful and imaginative looking food, bea...
Reviewed 4 months, 28 days ago
"Beuatiful and imaginative looking food, beautifully cooked. Great friendly service. This was the first visit but won't be the laat."
Report this comment

Nick G
I was a little disappointed, actually. The ...
Reviewed 5 months, 14 days ago
"I was a little disappointed, actually. The room shape is a little awkward and had it been busier people would have been on top of you. Service was excellent, including the sommelier, as one would have hoped. The food was refined but a little unexciting to be honest, perhaps a case of too high expectations. Unfortunately not one I will be revisiting."
Report this comment

Lloyd S
This was a fantastic way to start my 2020 ...
Reviewed 6 months, 2 days ago
" This was a fantastic way to start my 2020 Michelin Star Foodie Year as the food , wine and service was excellent. Our previous three visits had all been in the evening for dinner which made it a very long day when your going straight from work and then travelling back to Essex afterwards. So when we heard that the restaurant would first be changing their days to include Saturday and then to enhance our delight to start opening for lunch on Thursday , Friday and Saturday we couldn't wait to visit again. So on a nice sunny Saturday we headed to Chelsea for lunch. After a nice stroll around the local area we arrived at Five Fields which is nicely tucked away just of the Kings Road in Blacklands Terrace. On entering you immediately get a nice homely feel as the restaurant gives you that warm feeling like you was dining in your own living room. We received a nice welcome from Andreas before escorting us to our table. Once settled he asked if we'd like an aperitif so we chose a Gin & Tonic and a specially home made Negroni. A nice surprise was that when they were brought to the table we was told they were complimentary which we felt was a very nice gesture. While enjoying our drinks it was then time to meet Ludek who welcomed us back to the restaurant. We had a nice chat which was something that continued throughout our visit before he then brought us the menu. This consisted of two choices one being the A la Carte menu & the other a six course Lunch Tasting Menu. It was now time for our first course called Seabed which consisted of Octopus , Crab & Scallop that was served as three separate dishes. Each dish was an absolute delight. This led us on to our second course a fantastic Foie Gras with beetroot & carrots that was also accompanied with a slice of beetroot brioche. Next to come was the delightful Cod with mussels & kalette. This was followed by the main course and without doubt not only the dish of the day but a dish that will be hard to beat throughout the rest of the year. It was a Short Rib with red onion , celeriac and a heavenly red wine jus. This was accompanied with a deep fried Beef Tendon and matched perfectly with a glass of Taurasi Sant'Eustachio 2007. Before moving on to dessert we was asked if we'd like to have a cheese course we where presented with a nice selection of British & Irish cheeses. As they were all very tempting we decided to have a slice of each one. Also at this point Head Sommelier Agnieszka popped in especially early just to to come and say hello which was really nice of her. She then treated us to a complimentary glass of Blandly's Madeira 15 years old Malmsey to accompany our cheese. It was now time to move on to dessert which started with a delightful palate cleanser of Apple & Pine. This was fresh apple with a pine sorbet and led us perfectly on to the main dessert of Chocolate , Miso & Orange with a Stout sorbet a shear delight. The dessert was matched by another perfect choice a Kracher Auslese 2012 which was a nice medium sweet wine. We finished with a coffee to bring to an end a fantastic lunch where I'd firstly like to thank Ludek , Andreas , Giuseppe & Agnieszka for their amazing hospitality. I really think the Lunch Tasting Menu is great value for money especially with the snacks , bread & petit fours. I would highly recommend a visit and look forward to returning again soon"
Report this comment

Thomas W
Only a tasting menu was available that even...
Reviewed 6 months, 9 days ago
"Only a tasting menu was available that evening, eight courses for 95 GBP plus a "cheap" wine from the wine list for 59 GBP plus service charge. All dishes are extraordinary elegant and high class. The only dish that we did not understand was what the are naming pre-dessert "Apple and Pine"; pine compote served on top of an slightly hollowed out apple. It was not convincing and the apple obviously not supposed to be eaten. Isn't this a waste of food if the apple is just used to present the dish? Towards the end they were a bit pushy that we leave...(if we wanted to have coffee it would have been served somewhere else and the bill was presented right away. All other tables were still taken, maybe they expected a second seating at around 22 pm?). Overall the experience was excellent, with service at the high end and excellent courses served."
Report this comment

Tim J
What a perfect oasis in central London, I o...
Reviewed 7 months, 5 days ago
"What a perfect oasis in central London, I only wish I could go more often. Classic but interesting and at time exciting tasting menu, intimate and friendly yet stylish. Currently very good value for the location."
Report this comment

Haydn P
Went for lunch with two friends. Everyone a...
Reviewed 9 months, 22 days ago
"Went for lunch with two friends. Everyone agreed that this was the best meal they had ever eaten. The presentation and attention to detail is astonishing. The inventiveness and flavours are incredible. Service is just right. "
Report this comment

Margaret C
Lives up to the billing. This is very good...
Reviewed 10 months, 6 days ago
"Lives up to the billing. This is very good food, well presented and served with calm politeness. If the ambiance was slightly warmer it would be hard to beat."
Report this comment

Ivor S
Unique is the only word to describe this as...
Reviewed 10 months, 14 days ago
"Unique is the only word to describe this astonishing feat of culinary complexity that is the dining experience here. Each course is an imaginative creation of separate tastes that are progressed through as the presentation unfolds. A magnificent achievement, but it's not dinner as we know it."
Report this comment
Have you eaten at The Five Fields?
Post your own review of The Five Fields and contribute to our annual restaurant review guide.
Post your own review
8-9 Blacklands Ter, London, SW3 2SP
Make A Booking
Number of Diners:
Required Time:
Powered by OpenTable
Opening hours
| | |
| --- | --- |
| Monday | CLOSED |
| Tuesday | 6:30 pm‑10 pm |
| Wednesday | 6:30 pm‑10 pm |
| Thursday | 12 pm‑2 pm, 6:30 pm‑10 pm |
| Friday | 12 pm‑2 pm, 6:30 pm‑10 pm |
| Saturday | 12 pm‑2 pm, 6:30 pm‑10 pm |
| Sunday | CLOSED |
What social media is saying