Summary
"Fabulous on all levels" – Taylor Bonnyman's "utterly exceptional" dining room, "hidden in the heart of Chelsea" provides "not only a real treat, but a genuinely interesting gastronomic experience". "Beautifully crafted, creative food combinations are served with professional yet genuine charm" in "such a beautiful space". "It's difficult to find any fault" – if you tried hard you might say that the "decor is a bit 'posh restaurant'".
* Based on a three course dinner, half a bottle of wine, coffee, cover charge, service and VAT.
Summary
"The Elysian Fields?" – Taylor Bonnyman's "graceful and intimate dining room", tucked away in Chelsea offers an "exemplary experience", which for all-round quality and consistency has few rivals in the capital. "Phenomenal cooking" – from either the prix fixe or tasting menu – is delivered by "faultless, thoroughly attentive yet unpretentious" staff and "a contented buzz in the room ensures the ambience is never hushed".
* Based on a three course dinner, half a bottle of wine, coffee, cover charge, service and VAT.
Summary
"The epitome of fine dining, minus the stuffiness" – Taylor Bonnyman's "unflashy and grown-up" three-year-old, "tucked way in Chelsea" offers "an all-round fantastic experience". The setting is "elegant", service "genuine and unpretentious"; while the cuisine is "truly exceptional – exciting, yet accessible and (most importantly) delicious" ("expect an astonishing array of amuse bouches"). Until October 2016, this was perhaps "Michelin's most shocking omission", but finally the tyre men divvied up the requisite star.
* Based on a three course dinner, half a bottle of wine, coffee, cover charge, service and VAT.
Summary
"It just gets better and better!" – Taylor Bonnyman's "grown up" and "romantic" two-year-old in the heart of Chelsea is one of London's most deeply impressive all-rounders – service is "impeccable", and the "exciting" cuisine provides "a beautiful blend of original flavours".
* Based on a three course dinner, half a bottle of wine, coffee, cover charge, service and VAT.
Owner's description
A native Londoner, Taylor Bonnyman's cooking encapsulates the spirit of the capital. With a foundation built on British produce and seasonality, the cooking incorporates influences from London's broad cultural complexion and outward-looking philosophy.
Taking inspiration from the seasons, dishes reflect the aesthetics of nature and are a snapshot of the current landscape while the design of the dining room has taken inspiration from the original green fields between Chelsea and Knightsbridge where once there was open space and fresh produce taken in to London.
The main dining room is elegant and understated with pale lime-washed floors, copper backed hessian walls and features sculptured works by Sophie Dickens.
Service is delivered with aplomb by a team as warm and welcoming as they are professional and knowledgeable.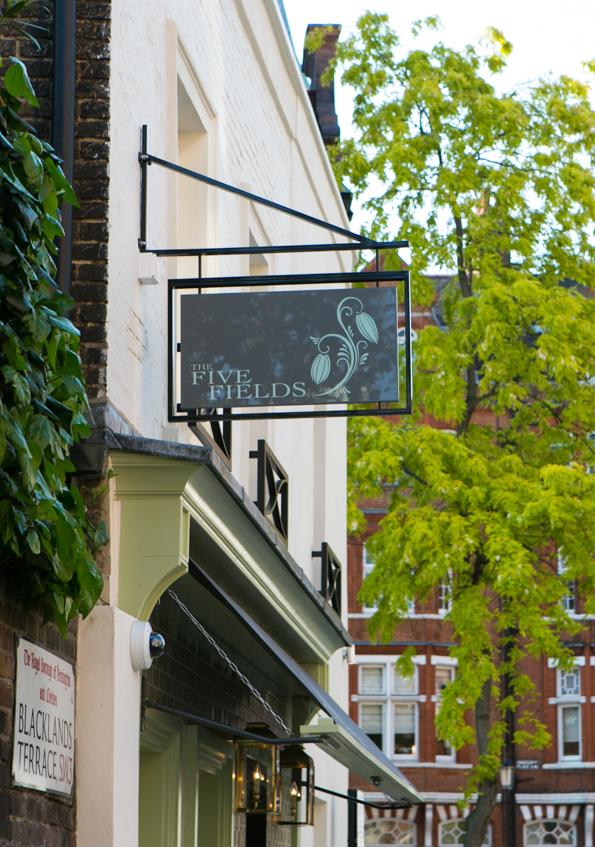 Private dining
Named after John Rocque, an 18th century cartographer whose wonderfully detailed panels offer a glimpse of Georgian London where this area is referred to as "The Five Fields"; The Rocque Room can accommodate up to 10 guests for Lunch or Dinner.

Located on the first floor of the restaurant and overlooking the charming side streets of Chelsea, The Rocque Room is decorated in warm subtle tones and offers a view into our extensive Wine Cellar as well as a feature fire place.

Guests may choose between two of the Chef's set menus, which are offered along with a number of additional indulgences including canapés, amuse-bouche, tea, coffee and petit fours.

A cosy lounge adjoins The Rocque Room and is available for drinks to welcome your guests before dining or after your meal.

For enquiries into booking an event in The Rocque Room please ring 020 7838 1082 or email Ceri@fivefieldsrestaurant.com.
The Five Fields Restaurant Diner Reviews
Reviews of The Five Fields Restaurant in SW3, London by users of Hardens.com. Also see the editors review of The Five Fields restaurant.

Lloyd S
This was a long overdue return to The Five ...
Reviewed 5 months, 19 days ago
"This was a long overdue return to The Five Fields but I have to say it was definitely worth the wait as it turned out to be a truly fabulous evening. We've been here twice before but the last time was over two and a half years ago and I can honestly say it won't be anywhere near as long before we're back again. Set just of the Kings Road and only a short walk from Sloane Square tube station is where you'll find the restaurant. As you enter the restaurant you immediately get a lovely homely feeling along with a warm and very friendly greeting. As you look into the dining area you see the tables down each side are set out for couples where each person faces inwards. There are larger tables down the centre plus upstairs is a Private Dining Room. Once seated we were treated to a delightful glass of Welsh Sparkling Rose from the Ancre Hill Estates. We also enjoyed some amazing snacks while we looked at the menu. On this occasion we decided to opt for the eight course Tasting Menu. It was then time to meet the wonderful sommelier Anna who it was a pleasure to chat to throughout the evening. Regarding our choice of wine we said that we would like to just have a bottle than the matched wine option to which Anna recommended a fabulous Riesling Trocken from Germany which was an absolute delight and really matched each course nicely. Now onto the food itself and we started with a stunning Scallop with Tomatillo & Lime this was followed by a heavenly Lobster with Fennel & Lardo. These dishes were brought to us by our Spanish waitress Lourdes who was so friendly and professional and truly added to our magical evening The next two courses were equally fantastic. The first being an amazing Beef Tartare with Mushroom followed by a simply stunning Foie Gras with a Beetroot Brioche & Blackberries Before we got to the main course we had the pleasure of a beautiful Turbot dish which came with Seaweed & Garlic So now it was time for the mains to which there was a choice of two. One being Roe Deer served with Courgette & Potato and the other was Grouse which came with Pumpkin & Girolles. We decided to have one dish each and can honestly say they were both worthy of being the highlight dish of the evening as they were just amazing Before dessert we decided to opt for a cheese course which apart from one French cheese the rest were British & Irish. The cheese was nicely presented to us by our delightful waitress Lourdes We then had a pre dessert which was a fabulous Melon with Hazelnut & Orange. This led us into our last course a delightful dessert of Honey , Lemon & Tarragon and the Sweet Wine chosen by Anna a Vouvray from the Loire Valley matched the dessert beautifully This brought an end to an outstanding evening where the food , wine and service was of the highest order and will definitely go down as one of the highlights of the year. Therefore I would highly recommend that you put a visit to this restaurant very close to the top of your list and as I said at the beginning it certainly won't be very long before I return"
Report this comment

Michael K
Still simply the best...
Reviewed 6 months, 14 days ago
"Still simply the best"
Report this comment

William L
Eating here is an EVENT. The food is beauti...
Reviewed 9 months, 22 days ago
"Eating here is an EVENT. The food is beautifully presented and staged. The service is as it should be- unobtrusive, but available and watchful without hovering. Best trained staff I have seen in years. Well choreographed. The food is excellent and the lagniappe was a wonderful complement to the courses. Cannot wait to come back."
Report this comment

Vivian C
Delicious food very well presented with wel...
Reviewed 11 months, 5 days ago
"Delicious food very well presented with well balanced tastes and textures on each dish. We had the tasting menu. Vey gracious host"
Report this comment
Have you eaten at The Five Fields?
Post your own review of The Five Fields and contribute to our annual restaurant review guide.
Post your own review
8-9 Blacklands Ter, London, SW3 2SP
Make A Booking
Number of Diners:
Required Time:
Powered by OpenTable
Opening hours
| | |
| --- | --- |
| Monday | CLOSED |
| Tuesday | 6:30 pm-10 pm |
| Wednesday | 6:30 pm-10 pm |
| Thursday | 12 pm-2 pm, 6:30 pm-10 pm |
| Friday | 12 pm-2 pm, 6:30 pm-10 pm |
| Saturday | 12 pm-2 pm, 6:30 pm-10 pm |
| Sunday | CLOSED |
What social media is saying