Harden's says
Special midweek stay offer at The Great House Hotel: From £257 dinner, bed & breakfast for 2 people sharing a king-size room, staying 1 night, Tue-Thu. Email or call to secure a reservation (quoting 257).
Harden's survey result
For 25 years we've been curating reviews of the UK's most notable restaurant. This year diners have submitted over 60,000 reviews to create the most authoritative restaurant guide in the UK.
Summary
"People will drive many many miles to eat at the Great House – one of the finest French Restaurants in Britain, in a stylish 14th Century old inn on the market square of the perfectly preserved half-timbered medieval village of Lavenham". "Classically French by cuisine, it's also classically French-run by owners the Crepy family (Regis and Martine) complete with old fashioned heavy eating irons, and pure white tablecloths" and "flexible and charming staff". "Much of the food is locally sourced, all ingredients of the highest quality" and results are "impeccable" down to "the most extravagantly rich cheese trolley anywhere!"
Summary
"Regis Crepy's brilliant restaurant in the heart of Lavenham never falters" and wins praise in many reports for a "perfect meal from start to finish". It occupies an "exquisite" timbered building, and provides "classic French cuisine, locally sourced, served in style, plus a great place to stay". What's more, "being taken into another room to peruse the amazing cheeseboard is always a treat to be relished!"
Summary
"Where would you want to have your last meal? Mine would be here!" – the Crépy family's "wonderful, timbered building" enjoys "a lovely and quiet location" in arguably "East Anglia's most beautiful village", and provides "a unique and delightful marriage of France and Olde Englande". All-in-all "it's hard to find fault" – the classic cuisine "never disappoints", wines are "superb", the cheese selection "unrivalled", and staff are "charming, discreet and efficient".
Summary
"It's so good I have now moved to the village to be close by!"; the Crépy family's "extraordinary" venture is "top drawer in every respect"… from the "beautiful" setting in an ancient house on the market square, to the "lovely" service and "excellent Gallic cooking".
Owner's description
The Great House is a sleek, chic gourmet 'Restaurant with Rooms' on the Market Place of Lavenham. The mood is pleasantly casual though the cooking is perfectly serious, earthy and imaginative. This is high end cuisine done with style and adventure.

Owned by Regis and Martine Crepy since 1985, The Great House is something truly special: a unique combination of Gallic charm, exquisite food, elegant decor and Suffolk heritage.

Menus change regularly with the seasons. Using the finest East Anglian produce, we create imaginative food inspired by our native France, food that has won us numerous accolades and awards.

Situated in the heart of Suffolk, The Great House Boutique Hotel is the perfect location to explore the area or to enjoy the 340 'listed' buildings of this historic village. Generous beds, en suite bathrooms and modern technology come as standard at The Great House. What makes its rooms truly great is their unique character, evoked through elegant and original design.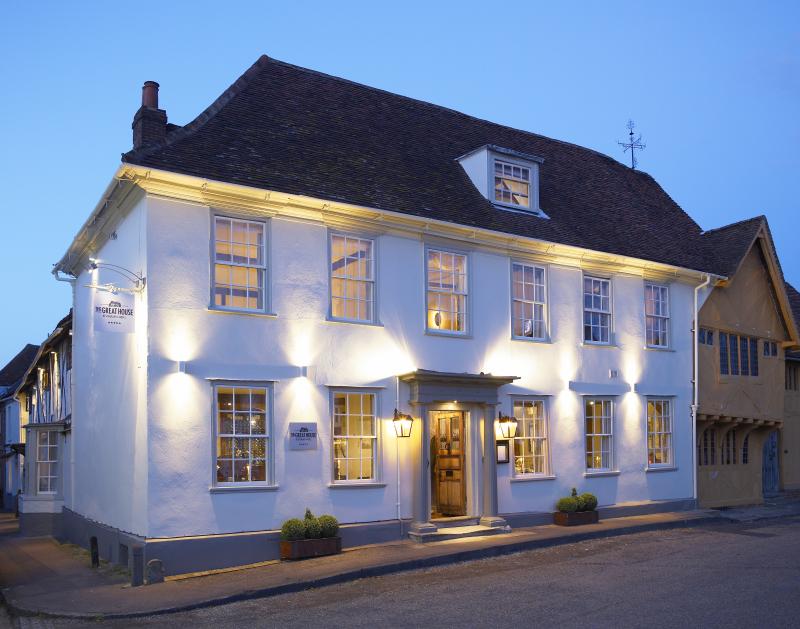 Restaurant details
Highchair, Portions, Entertainments
Yes
40
9.30 pm
55
Yes