Summary
"A romantic and beautiful ruined medieval castle" – dating from the era when bishops required a fortified residence – makes a "stunning location" for a Brownsword hotel. The food served in the first-floor dining room, under a 12th-century barrel-vaulted ceiling, is generally felt to be "pretty good", although it (and the service) is "not quite up to a level that matches the setting". "Afternoon tea served on tiered cake stands in the gardens (complete with a noisy white peacock named Bob)" is a very safe bet.
Summary
"How wonderful to dine in the medieval hall of a castle" (nowadays a Brownsword hotel) – complete with a 12th-century barrel-vaulted ceiling (and working portcullis). It almost seems churlish to point out that the restaurant is "expensive and a bit average", but most reporters feel that it's "worth it" for the "fantastic setting".
Summary
"It's so romantic" eating in this historic venue, complete with peacocks, ruined ramparts and working portcullis! Inevitably it's not the best option for a cheap date and opinions are mixed as to the value it delivers – for critics the cuisine is "not special enough" and the dining room "lacks ambience despite its evident history", but more typical is a reviewer who feels "it's a bit overpriced" but still finds it "a lovely experience".
Summary
"Dine in a real castle" – that's the promise at this "historic" venue (complete with peacocks and working portcullis!). Following a change of chef in early 2016, its food ratings slipped this year, but there were no grievous complaints, and most reports remain of somewhere that's "a little pricey, perhaps", but "a magical romantic destination for a special occasion, with excellent food".
Owner's description
Amberley Castle has a long held reputation for delivering outstanding cuisine.
Enjoyed in either the magnificent Queen's Room, with its barrel-vaulted ceiling dating back to the 12th century and open fire or The Great Room, built in 1165 by Bishop Luffa of Chichester, a fine example of Norman architecture with its high lancet windows, open fireplace, oak flooring, tapestry and suits of armour.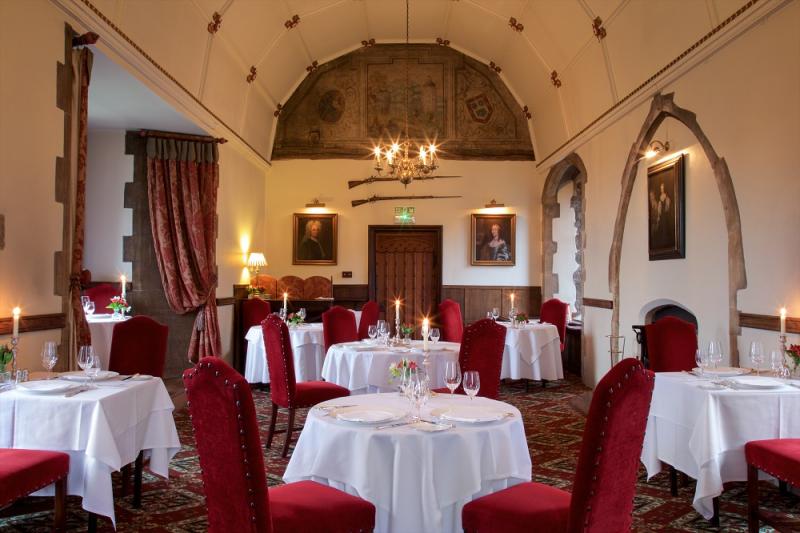 Prices
| Drinks | |
| --- | --- |
| Wine per bottle | £36.00 |
| Filter Coffee | £3.00 |
| Extras | |
| --- | --- |
| Service | 10.00% |
Amberley Castle Restaurant Diner Reviews
Reviews of Amberley Castle Restaurant in BN18, Amberley by users of Hardens.com. Also see the editors review of Amberley Castle restaurant.

Carol H
Another lovely tasting menu lunch here. Nev...
Reviewed 10 months, 27 days ago
"Another lovely tasting menu lunch here. Never disappointed. "
Report this comment
Have you eaten at Amberley Castle?
Post your own review of Amberley Castle and contribute to our annual restaurant review guide.
Post your own review
Amberley, BN18 9LT
Make A Booking
Number of Diners:
Required Time:
Powered by Bookatable
Opening hours
| | |
| --- | --- |
| Monday | 12 pm‑2 pm, 7 pm‑9 pm |
| Tuesday | 12 pm‑2 pm, 7 pm‑9 pm |
| Wednesday | 12 pm‑2 pm, 7 pm‑9 pm |
| Thursday | 12 pm‑2 pm, 7 pm‑9 pm |
| Friday | 12 pm‑2 pm, 7 pm‑9 pm |
| Saturday | 12 pm‑2 pm, 7 pm‑9 pm |
| Sunday | 12 pm‑2 pm, 7 pm‑9 pm |
What social media is saying