Summary
"THE place to go in the north east if you want to experience a first-class chippy", this "classic fish 'n' chip shop" (run by four generations of the family since 1926) is "fantastic, as ever" – with "very fresh fish" and "scampi from locally caught langoustines". See also Colmans Seafood Temple, nearby.
Summary
"Famous for fish for nearly 100 years" – fans hail this family-run veteran as "the top fish 'n' chip shop and restaurant in the North East": "super-motivated staff are welcoming and friendly", there's a "busy and exciting buzz" and the main event is "always well appreciated". "The new seafood palace nearby is fine, but you can't beat the old original!" (See also Colman's Seafood Temple).
Summary
"Take away if the sun is shining as the seafront is lovely" at this "always busy" family-run spot, famous for its "top-notch fish 'n' chips, and seafood". In May 2017 they brought their winning formula to iconic seafront building 'Gandhi's Temple', adding extra seafood dishes and a swish cocktail bar.
Summary
"The best chippie in the North East!" has been "a great institution since 1926" – "an excellent, well-organised operation", with "top quality fish 'n' chips", "super-friendly hosts" and offering "unbeatable value for money". (The business is also pitching to turn a local seaside landmark, 'Ghandi's Temple', into another outlet, with cocktail bar.)
Owner's description

No visit to North East England is complete without tasting Colmans Fish and Chips

On behalf of our family, let us welcome you to the legendary Colmans of South Shields, the UK's Number.1 Fish and Chip Restaurant.

We have been serving our famous Fish and Chips and Seafood's for over four generations and have built our reputation by not compromising on quality or service. At Colmans we believe quality is not expensive, it's priceless.

We believe that Fish and Chips are one of the Worlds greatest dishes, and at Colmans you will find the Nations favourite at its finest and we firmly believe that here in the North East of England we have access to some of the World's greatest Fish and Seafood's. We take great pride in sourcing only the finest local and seasonal produce. Keeping with tradition that goes back four generations and to maintain the quality we have become famous for, we still personally choose our own Fish and Seafood's from our local fish quays. All our Fish and Seafood's are from sustainable and well managed fishing grounds. Sustainability is very important to us; the ability to supply the needs of the present without compromising the needs of the future is what we believe in and are passionate about. Of course we remain fully committed to all environmental issues and you will find details are available on our website and on mini menus on your tables.

In recent years we have been delighted to win many National and Regional awards (listed below), which has gained us both a National and International following. We were honoured to be asked to provide our famous Fish and Chips for the Queen's Birthday celebrations in Guatemala and recently we travelled to the British Ambassador's Residence, Villa Wolkonsky in Rome to cook our famous Fish and Chips for 850 dignitaries and guests to celebrate the Queen's Birthday.

Our menu has been sampled by a host of celebrity customers and Richard, Frances and the Colmans team have been judged and praised by some of the countries leading chefs. The quality, skill and hard work of our dedicated team has led too inclusions in both National and Regional food guides including Hardens and the Good Food Guides.

Our first business was started in 1905 by my Great Grandparents, which was a small hut on South Shields foreshore. We then progressed and opened a larger restaurant and takeaway on the same site. Then we opened another in Barrington Street, South Shields and then in 1926 we opened Colmans on Ocean Road, where we have gradually built the business to what it is today. Our staff will be delighted to answer any questions you may have about our history and our produce.

We hope that you enjoy your visit with us and that we see you again soon.

We are open every day, during the following times:
Restaurant: 11am - 6:00pm Takeaway: 11am - 7:00pm
Ample free on street parking available outside
of Restaurant and car park to the rear.

No Reservations taken,come along and we
will find you a table as soon as we can.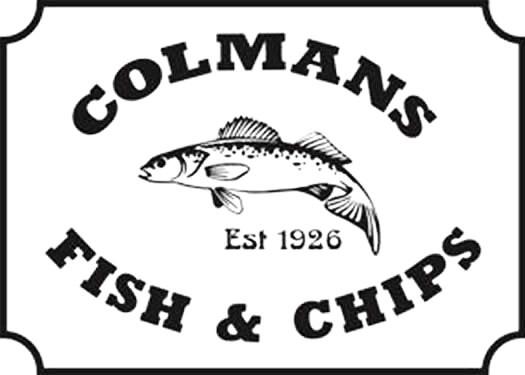 Prices
| Drinks | |
| --- | --- |
| Wine per bottle | £15.95 |
| Filter Coffee | £2.50 |
| Extras | |
| --- | --- |
| Service | 10.00% |
182-186 Ocean Rd, South Shields, NE33 2JQ
Opening hours
| | |
| --- | --- |
| Monday | 11 am‑6 pm |
| Tuesday | 11 am‑6 pm |
| Wednesday | 11 am‑6 pm |
| Thursday | 11 am‑6 pm |
| Friday | 11 am‑6 pm |
| Saturday | 11 am‑6 pm |
| Sunday | 11 am‑6 pm |
What social media is saying