Summary
"A fabulous selection of fresh fish on display to choose from" is the dramatic hallmark of Costas Spiladis's "upscale Greek" in the West End (where you choose your fish and pay by weight). Its most ardent fans feel it "gives Scott's a run for its money", but even some who feel it has "the best fish, with the best fish chefs in town" still say it's "pricey": "bring your bank manager along with you, as they'll need to extend your overdraft after eating here!"
* Based on a three course dinner, half a bottle of wine, coffee, cover charge, service and VAT.
Summary
"The setting is impressive and dramatic… as are some of the prices" at Costas Spiladis's glamourous West End yearling, where the centrepiece is "a terrific display and choice of Mediterranean fish flown in daily" ("you choose your fish and pay by weight"). All the many reports it inspires are of "masterfully prepared and sensational" dishes using "sublimely fresh" ingredients, and – leaving aside the "eyewatering expense" – the consensus is that it's "worth a visit" and emerging as one of London's top addresses for fish and seafood.
* Based on a three course dinner, half a bottle of wine, coffee, cover charge, service and VAT.
Summary
"Amazingly fresh fish" chosen from an icy display helps seduce devotees of this "lovely" looking new Greek fish specialist in the West End – a glamorous outpost of Costas Spiliadis's luxurious international group. Even fans note that "you could pay a small king's ransom here" however, and to cynics "it's an attempt to out-Moscow Moscow" – "stacks of dead fish on an iceberg is not decor and £15 for a teeny starter is not real life!"
* Based on a three course dinner, half a bottle of wine, coffee, cover charge, service and VAT.
Owner's description
Winner of The Harden's award for The Best Fish & Seafood London Restaurant of the Year 2017 and Winner of AA's Rosette Award for Culinary Excellence in two years running 2015-2017. Recognised as one of the finest Mediterranean seafood restaurants in the world, Estiatorio Milos was founded by acclaimed chef and restaurateur Costas Spiliadis. Milos is celebrated for serving the freshest, most pristine fish flown in daily from the Mediterranean and for sourcing the highest-quality ingredients. The consistently impeccable service and welcoming spirit has made Milos an unparalleled culinary destination in Montreal, New York, Athens, Las Vegas, Miami and, as of summer 2015, London.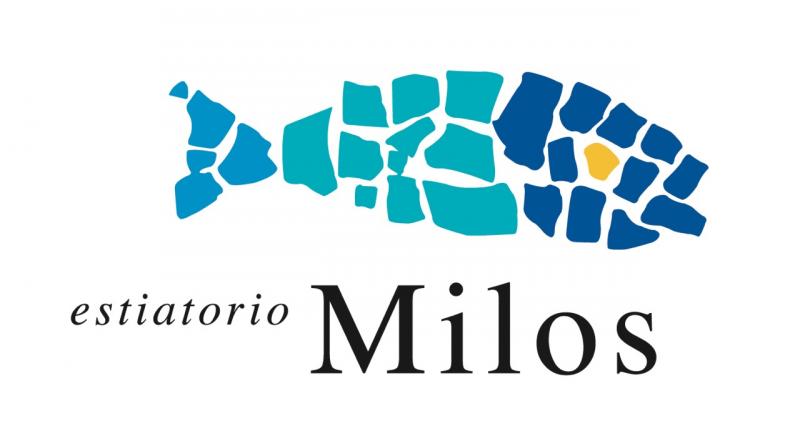 The chef
Acclaimed chef and restaurateur Costas Spiliadis pioneered the Hellenic food scene by introducing high-end food from the islands of Greece. Estiatorio Milos, which opened in London in August 2015, has a long-standing reputation for serving the freshest, most pristine Mediterranean seafood.
Costas Spiliadis' restaurants demonstrate a great commitment to the sourcing of quality ingredients. For almost forty years, he has cultivated relationships with fishermen in and around the Greek islands to source the highest quality catches.
Spiliadis first arrived in New York in 1969 from his native Patras, a port city near the ancient Greek village of Olympia. He acquired his passion for home cooking from his mother. In 1979, he opened his first Estiatorio Milos in Montreal, Canada. This new restaurant soon established itself as one of the city's most influential dining destinations and paved the way to an international expansion to several key metropolitan cities. Spiliadis' vision came full circle when in 2015, Estiatorio Milos opened in London to pursue his mission of elevating the status of Greek cuisine internationally.
Private dining
Milos London offers a selection of ambiances on the mezzanine floor to accommodate special occasions – be they for business or leisure.
Overlooking the ground floor dining room, the mezzanine is framed by our raw seafood bar, dessert and cheese counter – which showcases a large display of the best artisan cheese that Greece produces. Boasting a more intimate atmosphere, with a separate bar, the mezzanine is a flexible space which can be adapted according to the occasion and size of event.
Estiatorio Milos Restaurant Diner Reviews
Reviews of Estiatorio Milos Restaurant in SW1, London by users of Hardens.com. Also see the editors review of Estiatorio Milos restaurant.

Arvinder M
Absolutely first class service from the doo...
Reviewed 6 months, 30 days ago
"Absolutely first class service from the doorman to the every team member. The food is impressive and fresh, but ouch, it ain't cheap at all"
Report this comment

Anne D
Fish, fish, fish, terrific fixed price lunc...
Reviewed 8 months, 1 day ago
"Fish, fish, fish, terrific fixed price lunch menu with several choices in an atmosphere that permits business conversations without the neighbours overhearing your deal. Two very good experiences."
Report this comment
Have you eaten at Estiatorio Milos?
Post your own review of Estiatorio Milos and contribute to our annual restaurant review guide.
Post your own review
1 Regent St, London, SW1Y 4NR
Opening hours
| | |
| --- | --- |
| Monday | 12 pm-3 pm, 5 pm-12 am |
| Tuesday | 12 pm-3 pm, 5 pm-12 am |
| Wednesday | 12 pm-3 pm, 5 pm-12 am |
| Thursday | 12 pm-3 pm, 5 pm-12 am |
| Friday | 12 pm-3 pm, 5 pm-12 am |
| Saturday | 12 pm-4 pm, 5 pm-12 am |
| Sunday | 12 pm-4 pm, 5 pm-12 am |
What social media is saying