Owner's description
La Bonne Auberge Glasgow Theatreland takes pride in being one of the few Glasgow restaurants to still be going strong after over forty years.
La Bonne Auberge, Glasgow's original Mediterranean Brasserie, continues to thrive and innovate under the guidance of our award winning Executive Head Chef, Gerry Sharkey. Using only the freshest ingredients, the menus offer excellent value for money and tantalising cuisine inspired by France and the Mediterranean.
The Following promotions are available: 321 offer - £49.95 per couple - £49.95 /person - That's 3 courses for 2 people and 1 bottle of wine all for the great price of £49.95 per couple* It's as simple as that. Perfect for a romantic evening out or a great way to enjoy a bottle of wine with a friend *3 courses from Prixe Fixe Menu only and a bottle of house wine. Cannot be used in conjunction with any other offer. Dinner & Movie Package £22.00 / person Don't miss this blockbuster offer, enjoy an award winning 2 course dinner* PLUS we'll include a ticket to the Cineworld Cinema (just opposite) for the movie of your choice *2 courses from the Prixe Fixe Menu Two's Company - £35 per couple Join us for Fine Food, Fine Wine and Fine Times at La Bonne Auberge. Enjoy a two course meal with a carafe of wine *for only £35 per couple *2 courses from Prixe Fixe Menu and a carafe of house wine. Cannot be used in conjunction with any other offer.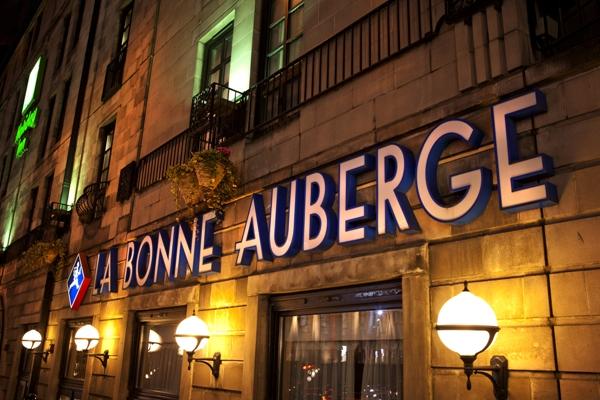 Prices
| Drinks | |
| --- | --- |
| Wine per bottle | £20.00 |
| Filter Coffee | £2.95 |
| Extras | |
| --- | --- |
| Service | 12.50% |
The chef
Starting his working life in Glasgow in 1983 in Daly's, an upmarket department store where he catered for its board of directors and provided a full a la carte menu for the dining restaurant, Gerry has gone on to win a multitude of awards at many of the city's leading fine dining restaurants and hotels in a distinguished culinary career that has included periods at The Malmaison (the original legendary fine dining French restaurant at Glasgow Central station), the Skean Dhu Hotel (rebranded subsequently to the Hospitality Inn then the Thistle), the Millennium Copthorne Hotel, The Triangle Restaurant (which won a Taste of Scotland Restaurant of the Year), Parklands Country Club and Glasgow Forum Hotel (rebranded to the Moathouse then the Crowne Plaza).
It is at La Bonne Auberge, where he has cooked for two decades, that Gerry has been able to express himself most fully in the kitchen. He continue to use many of the classical French cooking techniques in the kitchen, but with a more modern approach and using local fresh seasonal produce wherever possible.
Private dining
Our Montmartre Suite is unique in both style and décor and boasts an exclusive bar and dance floor. It is available for parties of 10-100 where your guests will enjoy a private room with the culinary expertise of the award winning La Bonne Auberge team.
Not enough people have commented yet
Our reviews are based on an annual survey of ordinary diners which runs in Spring each year. But this establishment has not yet gathered enough feedback for our editors to write it up.
Do you think it deserves to be better known?
Write a quick review now using our restaurant diary service. That way it might catch our attention. Next survey, you can transfer your diary entry into our survey system. Everyone who contributes 5 or more reviews in our survey will qualify for a free guide.
For 32 years we've been curating reviews of the UK's most notable restaurant. In a typical year, diners submit over 50,000 reviews to create the most authoritative restaurant guide in the UK. Each year, the guide is re-written from scratch based on this survey (although for the 2021 edition, reviews are little changed from 2020 as no survey could run for that year).
Have you eaten at La Bonne Auberge?
161 West Nile St, Glasgow, G1 2RL
Make A Booking
Number of Diners:
Required Time:
Powered by ResDiary
Opening hours
| | |
| --- | --- |
| Monday | 7 am‑9 pm |
| Tuesday | 7 am‑9 pm |
| Wednesday | 7 am‑9 pm |
| Thursday | 7 am‑9 pm |
| Friday | 7 am‑9:30 pm |
| Saturday | 7:30 am‑9:30 pm |
| Sunday | 7:30 am‑9 pm |