Summary
"Spacious and modern seafront establishment" – part of a mini-chain of three – praised like its siblings for its "good-quality, well-priced food and decent wine".
Owner's description
"Straight from the sea - right by the sea"
Kent born and educated Turrloo Parrett, who built up the prestigious Eastwell Manor Country House and Spa at Ashford, is putting all his efforts into developing his Hythe Bay Seafood Restaurant brand which he wants to flourish in the same way. "Quality not compromise" remains his motto.
All three restaurants have a 5-star rating with the local authorities. The three restaurants are different but they all offer a warm welcome for the whole family which for diners means that at the start of their visit they receive complimentary warm freshly baked rolls and smoked mackerel pate.
We encourage each manager to highlight on their section of these pages, special local events that may be of particular interest to our customers.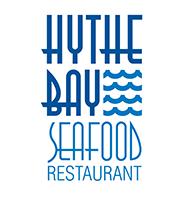 Prices
| Drinks | |
| --- | --- |
| Wine per bottle | £20.95 |
| Filter Coffee | £3.25 |
| Extras | |
| --- | --- |
| Service | 10.00% |
The Booking system is currently unavailable. We apologise for any inconvenience.
Opening hours
| | |
| --- | --- |
| Monday | 10 am‑10 pm |
| Tuesday | 10 am‑10 pm |
| Wednesday | 10 am‑10 pm |
| Thursday | 10 am‑10 pm |
| Friday | 10 am‑10 pm |
| Saturday | 10 am‑10 pm |
| Sunday | 10 am‑10 pm |