Owner's description
The Alice Hawthorn Inn, located in the idyllic North Yorkshire village of Nun Monkton is an essential destination on the Yorkshire food trail. The 2017 winner of the Yorkshire Life Dining Pub of the Year, the pub has a fabulous reputation for delicious, fresh, seasonal food and is thriving under the management of John and Claire Topham.
Everyone is welcome. From our beer drinking regulars, the walkers and their dogs, to daytrippers from the river and families and friends who love a good Sunday lunch.
Heading up the front of house is Enzo, who believes in thoughtful and well-informed service. Simon Ball, our head chef, leads a team of chefs who have cooked their way around the world and are a real class act in the kitchen.
Albeit under a few different guises, the village pub has been a landmark on the Nun Monkton green for 220 years. It was latterly named The Alice Hawthorn after an elegant local racehorse which had success at Doncaster, Goodwood and Ascot, gaining a reputation as 'Queen of the Turf'.
Following a period of closure under Punch Taverns, 'The Alice', as it is colloquially known, was bought in 2013 by the Harpin family who have lived in the village for 20 years. Richard and Kate Harpin have been instrumental in redeveloping and revitalising the pub, helping to create a cosy country pub with a warm Yorkshire welcome whilst securing its future for the benefit of the local community. With John and Claire Topham coming on board in January 2017, they have created the perfect partnership.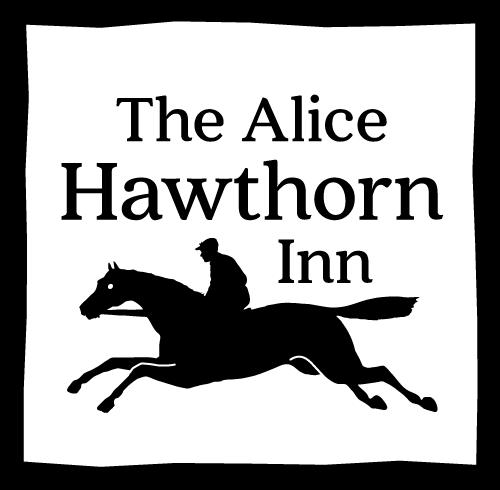 Prices
| Drinks | |
| --- | --- |
| Wine per bottle | £21.50 |
| Filter Coffee | £2.50 |
Private dining
A private hideaway behind the pub. Very comfortably seating up to 30 (and more standing!), we'd be delighted to help plan your exclusive use of The Barn.
The Alice Hawthorn Restaurant Diner Reviews
Reviews of The Alice Hawthorn Restaurant in YO26, Nun Monkton by users of Hardens.com. Also see the editors review of The Alice Hawthorn restaurant.

Ian m
Excellent food very good wine list with low...
Reviewed 2 days ago
"Excellent food very good wine list with low markups,interior nicely done out,service friendly and efficient I remember the chef from his days at the angel at hetton,he's carried on the tradition of excellent wine with a low markup"
Report this comment

Susan P
They have really worked to develop outside ...
Reviewed 7 months, 4 days ago
"They have really worked to develop outside tables and on a sunny day, a table overlooking the expansive village green is lovely. Still have excellent range of starters"
Report this comment
Have you eaten at The Alice Hawthorn?
Post your own review of The Alice Hawthorn and contribute to our annual restaurant review guide.
Post your own review
Not enough people have commented yet
Our reviews are based on an annual survey of ordinary diners which runs in Spring each year. But this establishment has not yet gathered enough feedback for our editors to write it up.
Do you think it deserves to be better known?
Write a quick review now using our restaurant diary service. That way it might catch our attention. Next survey, you can transfer your diary entry into our survey system. Everyone who contributes 5 or more reviews in our survey will qualify for a free guide.
For 30 years we've been curating reviews of the UK's most notable restaurant. In a typical year, diners submit over 50,000 reviews to create the most authoritative restaurant guide in the UK. Each year, the guide is re-written from scratch based on this survey (although for the 2021 edition, reviews are little changed from 2020 as no survey could run for that year).
Have you eaten at The Alice Hawthorn?
The Green , Nun Monkton, YO26 8EW
Make A Booking
Number of Diners:
Required Time:
Powered by ResDiary
Opening hours
| | |
| --- | --- |
| Monday | CLOSED |
| Tuesday | CLOSED |
| Wednesday | 12 pm‑2:15 pm, 5 pm‑8:30 pm |
| Thursday | 12 pm‑2:15 pm, 5 pm‑8:30 pm |
| Friday | 12 pm‑2:15 pm, 5 pm‑8:30 pm |
| Saturday | 12 pm‑2:15 pm, 5 pm‑8:30 pm |
| Sunday | 12 pm‑3 pm, 5 pm‑7:30 pm |