Summary
"Quality Indian street food" and a "fantastic selection of really unusual small plates" attract the most feedback of any curry house on Tyneside for this 12-year-old near the Theatre Royal (and its Jesmond offshoot). "Our go-to for a very rapid meal in Newcastle", its "innovative menu and fresh cooking" "never disappoint".
Summary
"Head and shoulders above your ordinary curry house" – with "palate-zinging" but also "delicate and original" dishes – this eleven-year-old street food pioneer near the Theatre Royal (with an offshoot in Jesmond) is a "perfect location for a night on the Toon". "Even the mocktails are fantastic!".
Summary
Funkily branded High Bridge street food kitchen, near the Theatre Royal (with a Jesmond sibling) celebrating ten years in business, which is consistently the city's most highly rated Indian option. "On my own, I love it. On a date night with my husband, we really love it. As a family of 4, we absolutely love it!"
Summary
"Lunch, dinner time, on a date, a family meal or a quick pre-film bite – I love it!" This "very different" and "buzzing" outfit, near the Theatre Royal, remains the city's most popular Indian. High ratings too for its Jesmond sibling.
Owner's description
Welcome to Dabbawal, Indian street food pioneer, the UK's Best Casual Dining Restaurant (British Curry Awards 2015), and everyone's favourite neighbourhood kitchen.
At our colourful, buzzing kitchens we bring you the fresh tastes of the street – Indian snacks and chaats, tapas-style grazing dishes, classic curry plates and unique street combos.
Unique Indian food, served tapas-style in our friendly urban kitchens – eat, graze, share – love Dabbawal!
The heart of every Indian home beats in the kitchen, and at Dabbawal, you meet and eat any way you like. Our tapas-style street combos, side dishes, and curry plates are fresh, relaxed and laid back; your food comes as it's cooked and you share – or keep everything to yourself!
Our Bombay Bomb is one of our biggest sellers, our Bhel Puri is always a big talking point, and we have yet to meet anyone who hasn't loved our Railway Lamb Chops. This is the taste of the street, Dabbawal style!
We created our urban kitchen concept, named for the famous Dabbawalla lunch delivery men of Indian cities, long before the craze for street food hit the UK, and we're still breaking the mould – serving up unique dishes derived from traditional street favourites in busy urban kitchens which buzz with conversation and comings and goings – just like home.
Eat, graze, share...love Dabbawal!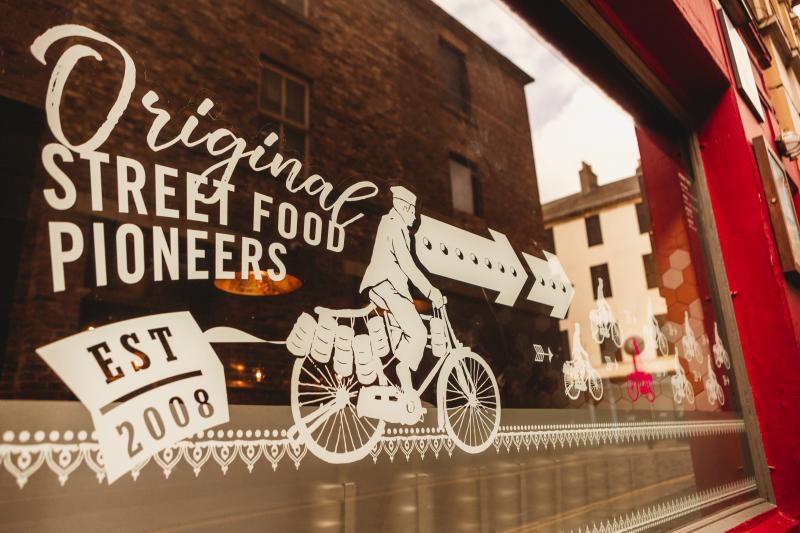 Prices
| Drinks | |
| --- | --- |
| Wine per bottle | £15.95 |
| Filter Coffee | £2.50 |
| Extras | |
| --- | --- |
| Bread | £2.25 |
| Service | 10.00% |
Opening hours
| | |
| --- | --- |
| Monday | 12 pm‑2:30 pm, 5 pm‑10:30 pm |
| Tuesday | 12 pm‑2:30 pm, 5 pm‑10:30 pm |
| Wednesday | 12 pm‑2:30 pm, 5 pm‑10:30 pm |
| Thursday | 12 pm‑2:30 pm, 5 pm‑10:30 pm |
| Friday | 12 pm‑2:30 pm, 5 pm‑10:30 pm |
| Saturday | 12 pm‑10:30 pm |
| Sunday | 5 pm‑10:30 pm |
What social media is saying