Breaking news
August 2020: The restaurant has announced that it will reopen from Monday 7th September.
Summary
"The Best of British" – London's oldest restaurant (founded 1742, but not on this site) feels – with its "muffled conversations and refined decor mixing deep reds, browns and greens" – "akin to a compact version of an old-fashioned club"; and its St James's quarters provide a "top drawer", "old-school" experience for those of an "old-fashioned" disposition ("jackets are required for men"). "Acoustics are civilised" and "tables are very discreet, so it's perfect for business lunches or dinners"; while service operates "with class and efficiency", yet "without being unctuous". "If you want first-class, traditional cuisine", in particular fish and seafood (also game in season), this is the place for you – "sublime ingredients" are "presented impeccably, but without frills". Do try to ensure you are there at the invitation of your tax advisor or art dealer, however: "the bill is always brutal".
Summary
"Don't forget your jacket if you're joining the peers of the realm at this classic on Jermyn Street, which has been doing things the way they should be done for more than 270 years (!)", with "reassuringly unchanging, courteous-old school service" that "make you feel like a regular, even if you only visit annually". The "superb quality of the fare is without parallel" from an "old-fashioned, utterly untrendy menu", which particularly shines with "British seafood at its finest", but is also strong in game. "Of course it's definitely overpriced, but cheaper than joining a club and, on that basis, worth every pound!"
Summary
"The courtesy and class is evident from the moment you make the reservation" at this "stalwart of St James" (est 1742, here since 1984): "a perfect and unchanging haven" for "the very best of British classics" – in particular "fabulous" fish and seafood (and also game). "Make sure there is plenty of money available on your credit card", as it is powerfully expensive, but it's "an ideal location for serious business discussions" ("I'd sign anything you put in front of me in this place, and then apologise for having the wrong sort of pen!").
Summary
"The equivalent of the best of St James's clubs"; this "bastion of traditional British cuisine" (est 1742, here since 1984) offers a "truly magnificent", "old-school" experience majoring in "wonderful fish" ("the best-ever sole meunière") and "great game" ("it's the only place I've ever had the chance to eat snipe, then woodcock!"). "Long may it survive, even if prices are crazy!"
Owner's description
For those of you that are new to Wiltons welcome, to those who are familiar with the restaurant, "welcome home".
Since 1742 Wiltons has been synonymous for the finest oysters, wild fish and game and traditional, courteous, hospitality.
The British menu aims to offer the freshest fish, game and meats from the very best fleets and farms the United Kingdom has to offer.
Wiltons still very much recognises and respects its origins, serving the finest Oysters from the British Isles since gaining our first Royal Warrant for supplying Oysters to the Royal household in 1836.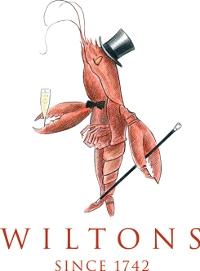 Prices
| Drinks | |
| --- | --- |
| Wine per bottle | £49.00 |
| Filter Coffee | £3.50 |
| Extras | |
| --- | --- |
| Service | 12.50% |
The chef
Head Chef, Daniel Kent

Daniel joined Wiltons in 2011 having formerly worked at some of London's finest restaurants such as Le Café Anglais, Skylon and The Wolseley. He initially went to university with the idea that he would become a Restaurant Manager. However upon graduating, he fell in love with cooking, having been previously inspired by the many Sunday lunches at his aunt's house where she would put on a feast of local Yorkshire produce and sherry laced trifle! He has a firm belief that use of great ingredients and an exceptional team behind him is the perfect recipe for a world class establishment. He has enjoyed re-introducing many of Wiltons classic dishes as well as showcasing many of his own creations.
Private dining
Our comfortable and elegant private dining room, The Jimmy Marks Room can accommodate up to 20 guests for a seated meal and is the perfect private dining room ideal for all occasions including lunch, dinner or cocktail and canapé parties, whether your booking is for business or pleasure.
We have prepared a variety of menus to suit all tastes, however we are also happy to design a bespoke menu.
The room also has two data points allowing for fast internet and IP conference calls. Should you need any further IT equipment for your conference or meeting we would be delighted to arrange this.
Wiltons is open for lunch and dinner Monday to Friday and for dinner on Saturday.
However exclusive hire of the restaurant may be possible subject to agreement.
55 Jermyn St, London, SW1Y 6LX
Opening hours
| | |
| --- | --- |
| Monday | 12 pm‑2:30 pm, 5:30 pm‑10:30 pm |
| Tuesday | 12 pm‑2:30 pm, 5:30 pm‑10:30 pm |
| Wednesday | 12 pm‑2:30 pm, 5:30 pm‑10:30 pm |
| Thursday | 12 pm‑2:30 pm, 5:30 pm‑10:30 pm |
| Friday | 12 pm‑2:30 pm, 5:30 pm‑10:30 pm |
| Saturday | 5:30 pm‑10:30 pm |
| Sunday | CLOSED |
What social media is saying