Summary
A "strong all-rounder" – this mid-Victorian (hence the name) former blacksmith's and post office opened as a smartly refurbed restaurant with rooms in 2016, with local lad Phil Corrie at the stove. He quickly earned a reputation for his enthusiastic use of locally sourced and often foraged ingredients (including his mum's raspberries).
Summary
Small (about 30 covers) Lakeland bar-bistro with a high level of ambition; feedback was too limited for a rating last year – the cooking seems dependable, but if there's a complaint it's over portion sizes.
Summary
Small (about 30 covers) Lakeland bar-bistro with a high level of ambition; feedback was too limited for a rating this year – the cooking seems dependable, but if there's a complaint it's over portion sizes.
Summary
"We were staying at Sharrow Bay and were told rather sniffily that there was nowhere else decent to eat locally. Well there is!" – This small Lakeland bar-bistro with rooms inspires relatively limited feedback, but fans say its modern-ish fare (there's also a tasting option) comes "thoroughly recommended".
For 31 years we've been curating reviews of the UK's most notable restaurant. In a typical year, diners submit over 50,000 reviews to create the most authoritative restaurant guide in the UK. Each year, the guide is re-written from scratch based on this survey (although for the 2021 edition, reviews are little changed from 2020 as no survey could run for that year).
Have you eaten at 1863 Bar Bistro Rooms?
Owner's description
1863 is a Victorian guest house set in the heart of Pooley Bridge, an idyllic Lakeland village on the shores of Ullswater. Originally the village post office and telephone exchange, 1863 has now been reimagined for the 21st century.
More than a bar, bistro and seven elegant bedrooms, we are a family affair who enjoy getting the little things just right and welcoming guests back time and again to share in a slice of Lakeland paradise.
Coming for dinner?
Come on in, join us for a drink and discover innovative, seasonal cooking served in a friendly and relaxed atmosphere. Carefully structured menus allow you to savour all three courses while our commitment to quality local food in season means there's always something new to try. Dinner at 1863 will no doubt generate conversation around the table on the night, but (we hope!) will also give you something to talk about long after you've left for the evening.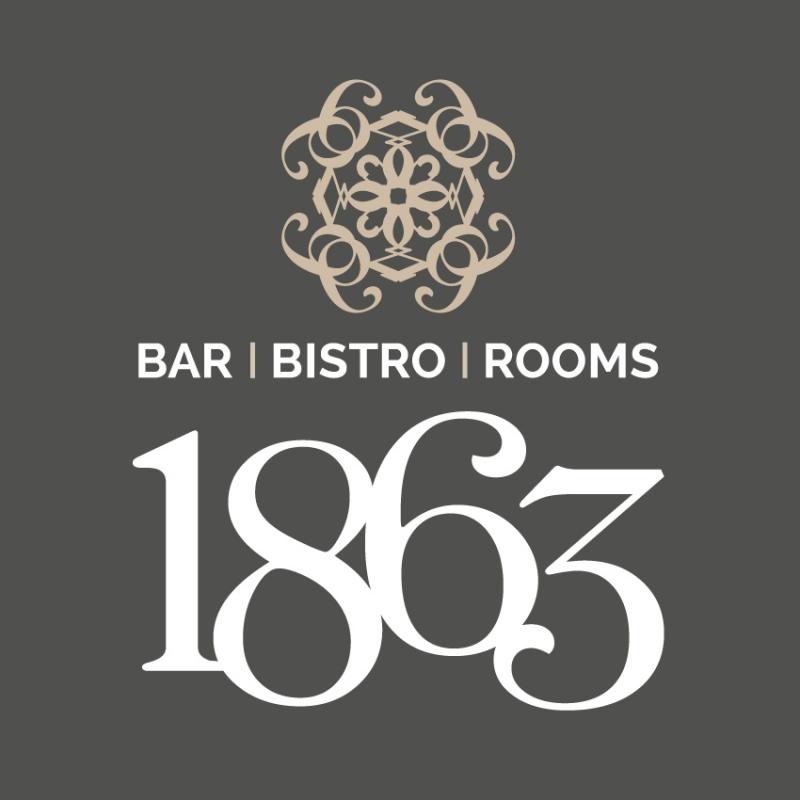 Prices
| Drinks | |
| --- | --- |
| Wine per bottle | £26.00 |
| Filter Coffee | £2.95 |
| Extras | |
| --- | --- |
| Service | 12.50% |
The chef
The 1863 Kitchen team is headed up by 25 year old, Phil Corrie. Phil, alumnus of Kendal Collage and part of their prestigious culinary team, trained in advanced kitchen and larder, patisserie and confectionary, and finished his college life by completing a level 3 in restaurant supervision. After leaving Kendal College Phil held the reins at a gastro pub in the Eden Valley before joining us in May 2016.
Today, thanks to a lot of hard work and skill, Phil is joined by Sous Chef, Michael Woods (23) formally Chef de Partie at a local two rosette restaurant, Chef de Partie, Niall Frith (18) who was recently part of a winning duo in the UK Young Seafood Chef of the Year awards. Last but not least, the team is completed by two junior members, Megan Heath and Matthew Harris
1863 Bar Bistro Rooms Restaurant Diner Reviews
Reviews of 1863 Bar Bistro Rooms Restaurant in CA10, Pooley Bridge by users of Hardens.com. Also see the editors review of 1863 Bar Bistro Rooms restaurant.

Jon B
https://1863ullswater.co.uk/ 29 Jan 2022 me...
Reviewed 6 months, 12 days ago
"https://1863ullswater.co.uk/ 29 Jan 2022 menu WHILE YOU WAIT Cumbrian Lamb Croquettes £5.00 Mint Vinegar Gel Stonehouse Smokery Charcuterie £5.00 Lomo, Red Wine Garlic & Fennel Salami Pied Piper, Cider Thyme & Porcini Salami Lunch £35-3 courses, £30 - 2 course STARTERS Winter Leek Soup Smoked Kohlrabi, Leek Oil Gruner Veltliner, Wienwurms | Austria | 125ml £7.20 Beetroot Smoked Crapaudine, Ragstones, Seeded Cracker Bourgogne Gamay, Domaine Labruyere | France | 125ml £9.40 Arctic Char Samphire, Butter Sauce, Caviar Sauvignon Blanc, Southern Right | Australia | 125ml £8.20 MAIN COURSES Cumbrian Pork Belly Crown Prince Squash, Purple Sprouting Broccoli, Stuffing, Pork Sauce Rheingau Riesling Kabinett, Fruchtsuss Schloss Schonborn | Germany | 175ml £11.90 Corn Fed Chicken Hen of the Woods, Mushroom Ketchup, Chicken Butter Sauce Viognier, Mont Rocher | France | 175ml £8.60 Hispi Cabbage Seeded Crumb, Blacken Onion Puree, Golden Sultana Dressing Cabernet Sauvignon, Doamine de Saissac | France | 175ml £9.50 DESSERTS Medjool Date Date Mousse, Caramel, Organic Vanilla San Emilio Pedro Ximenez, Solera Reserva, Emilio Lustau | Spain | 50ml £7.60 Valrhona Chocolate Pistachio, Orange, Cardamom Late Bottled Vintage Port, Quinta do Portal | Portugal | 50ml £7.20 Yorkshire Rhubarb Whipped Cheesecake, Gingerbread, Brioche Cuvee Auslese, Hans Tschida | Austria | 50ml £7.00 A LITTLE CHEESE? Cheese Board Pitchfork Cheddar, Cotehill Blue, Wigmore, Ragstone, Apatha Fruit Preserve, Candied Walnuts, Crackers £10.00 Supplement / £15.00 Additional Course *Pineau des Charentes, Chateau de Montifaud | France | 50ml £7.50 We tried both nibbles, 4 breaded lamb cubes, tasty and hot, but a little chewy. The charcutrie nicely flavoured, although two thin slices of each of four types perhaps a little miserly. The homemade bread rolls were a little "cakey", more scone type than yeasted bread. We both chose the Char for starter. Nicely cooked, a couple of bits of the samphire a little stringy, squid ink tuile a little tough, small drop of Exmoor caviar and some trout/salmon keta, butter sauce. Overall pleasant. Pork belly nicely cooked, smooth squash puree, cavalo nero quite green, good sauce, stuffing ok not outstanding. Chicken moist, hot and tasty, Skin could have been a little crispier, mushroom good and buttery, nice gentle tang in mushroom ketchup. We went for all three desserts between us (extra £8 for the 3rd) The date mousse excellent, nice vanilla ice cream & caramel sauce. The chocolate dessert just firm enough to hold on its base, crispy, topped with candied pistachio and a touch of gold leaf. Pleasant not heavy. The whipped cheesecake was light, the crumb base was loose, and a nice tangy rhubarb gel filling, along side was the gingerbread brioche oblong topped with sliced rhubarb. This was the best of the three desserts. Two 500ml bottls of Tirril blond pale ale, and a bottle of sarkling water. Total £101 - fair enough. It was quiet (but January on a very windy day) only two other couples for lunch were in."
Report this comment
Have you eaten at 1863 Bar Bistro Rooms?
Post your own review of 1863 Bar Bistro Rooms and contribute to our annual restaurant review guide.
Post your own review